Updated On 12 May, 2023
BreachLock Releases API Penetration Testing and Security Testing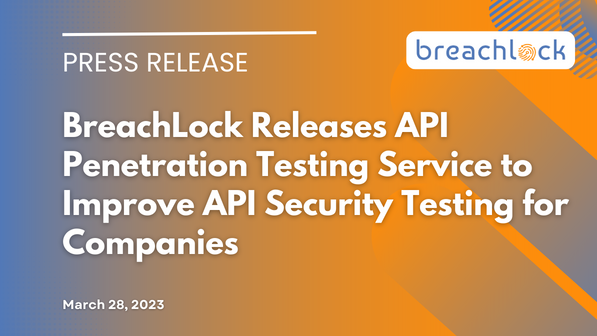 New API Pentesting Service Launched by BreachLock to Improve API Security
NEW YORK, Mar. 28, 2023 /PRNewswire
BreachLock officially launched its API Penetration Testing Service today, making API security testing faster, more scalable, and more affordable compared to alternative pentesting providers. The company is best known for its human-led, AI-enabled Pen Testing as a Service (PTaaS) solution delivered via its award-winning client portal. API penetration testing will help organizations prevent cybercriminals from exploiting unpatched API vulnerabilities to perpetrate cybercrimes.
BreachLock is known for its innovative pentesting approach as a leader in the emerging PTaaS market. With a global reputation for delivering enterprise-grade penetration testing services, Breachlock leverages automation to ensure affordability and speed for clients held back by alternative pentesting options. With integrated remediation, companies can decrease their window of exposure to critical API vulnerabilities fast. Clients receive evidence-backed pentest reports with guided remediation on critical vulnerabilities, along with 12 months of access to retest, generate reports, and run scans inside the client portal.
Regarding its new security testing offering, BreachLock's Founder & CEO, Seemant Sehgal, comments, "With the rise in security breaches involving insecure APIs, it's our responsibility to enable clients to prevent similar incidents." Sehgal adds, "Staying ahead of cyber adversaries is the name of the game. With today's threat landscape, agile pentesting is the key to combatting security breaches, especially when done regularly."
BreachLock's API pentesting service is conducted by 100% in-house, certified expert pentesters (e.g., CREST, OSCE, OSCP, CISSP, CEH) that leverage AI and automation to accelerate the process and deliver more accurate results that closely correlate with OWASP best practices. Its security experts apply maximum business logic to every API pentest during a manual deep dive and ensure zero false positives by validating automated findings.
About BreachLock
BreachLock® is a global leader in cybersecurity and Penetration Testing services combining the power of human hackers, artificial intelligence, and automation. Engineered for agility and scalability for digital environments of any scale, on its cloud-native platform, BreachLock delivers full-stack, Human-led, AI-enabled, Pen Testing as a Service (PTaaS), enabling organizations to accelerate pentesting by 50% and reduce TCO by 50% in comparison to alternative penetration testing companies. BreachLock helps clients accelerate their security maturity, meet compliance requirements (i.e., PCI DSS, ISO 27001, HIPAA, GDPR, SOC 2), and conduct third party security vendor assessments. Learn more at www.breachlock.com.
Learn more about BreachLock. Read our
FAQ Page