PARTNER WITH BREACHLOCK INC.
Being a BreachLock Partner is easy. Register your first deal with us and become a Partner.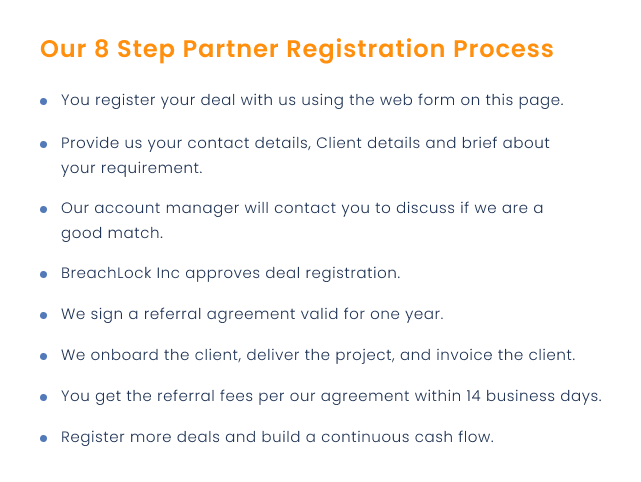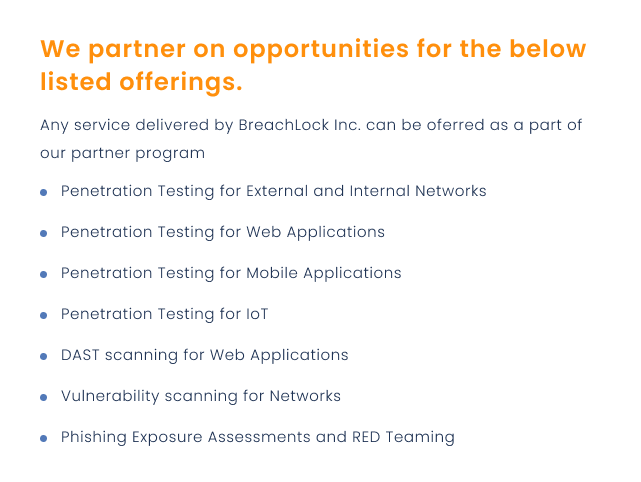 What support can you get from BreachLock for your marketing team?
We understand that you may need to promote BreachLock services to nourish leads and qualify them. As a partner, you are free to market any of our website content and repost it on your social handles. This includes service pages, blog posts, or infographics. You are also allowed to add your branding to this content as long as the original content from BreachLock Inc. is not modified. All marketing material must have the BreachLock Inc. logo and website included. Besides this, you can get BreachLock user guides and training videos from us. These can not be reproduced or modified and should be marketed in its original form.
What security knowledge and skills should a partner have?
As a partner, you need a sales team that can get a qualified deal. You can register the qualified deal on this page. Your involvement is not required from a technical, operational, or after-sales support perspective. The BreachLock team will manage the end-to-end delivery and support process. You will be able to monitor the progress on the project via our SaaS portal. Partners and your clients are granted access to our SaaS platform once the project is on-boarded. Our account manager will explain the entire process after your registration is completed.
Brief videos about the BreachLock Value Proposition
Detailed explanation for BreachLock SaaS capabilities. These videos explain how BreachLock platform works using short 60 seconds video per topic.
Learn more about BreachLock. Read our
FAQ Page