Simple and Scalable Penetration Testing Services
Discover comprehensive penetration testing services from BreachLock, the global leader in Pen Testing as a Service (PTaaS). Powered by Certified Hackers that combine AI and human expertise – we help you solve the problems of scalability and cost within an agile, DevOps ready SaaS platform.
Schedule a Discovery Call
Penetration Testing Services that deliver more for less
BreachLock™ offers a secure cloud platform that enables our clients to request and receive a comprehensive penetration test with a few clicks. Our unique approach makes use of manual as well as automated vulnerability discovery methods aligned with industry best practices. We execute in-depth manual penetration testing and provide you with both offline and online reports. We retest your fixes and certify you for executing a Penetration Test. This is followed up with monthly automated scanning delivered via the BreachLock cloud platform. Throughout this process, you have access to the platform and our security experts who will help you find, fix, and prevent the next cyber breach.
Comprehensive, Safe and Compliant Pen Testing Services
React faster
Simple, cost-effective annual subscription that allows for on-demand pen test procurement at any time. Online progress tracking and real-time results enable swift action. Choose between a one-time Pen Test or continuous Pen Testing services.
Certified experts you can trust
Rather than rely on a marketplace of hackers using scattered tech stacks, we employ our own full-time team of CREST, OSCP and OSCE certified pen testers who use only trusted and production safe technology that we develop in-house.
Scale to your needs
No more waiting on slow
human-driven pen testing services that can't keep up with your needs. BreachLock provides an on-demand and repeatable process with automated patch validation, retesting, and continuous automated scans.
Stay in compliance
Make sure you continually meet compliance requirements for PCI DSS, HIPAA, SOC 2, ISO 27001, GDPR, and more with pen testing services that include automated web scanning, detailed penetration testing reports with compliance indicators, and fast DevOps remediation.
Higher quality results
Our most effective hybrid of certified hacker experts and AI quickly delivers high quality results and analysis. Continuous addition of new risk checks ensures your stay ahead of your greatest threats.
Accelerated fixes
Get active remediation at any time and retain knowledge for reuse. BreachLock is integrated with DevOps tools like JIRA and Slack to help you meet development timelines without sacrificing security.
On-demand penetration testing services in 4 easy steps
Easy Onboarding
Fast Execution
Comprehensive Remediation
Automated Re-testing
Access BreachLock Client Portal
Meet your certified Penetration Testing Project Manager
Confirm your testing scope
AI-pen test service launched
Automatic report generated based on OWASP and/or NIST
Certified hackers check, expand, and enhance your pentest report
Integration with DevOps tool for fast vulnerability resolution
Interactive remediation support by security experts
One-click retest and patch validation
Fully-automated follow-up scan for continuous assurance
Repeat as required
Simple and Scalable Pen Testing Services
Full stack cybersecurity coverage (app, network, and cloud) for your organization with the only cloud platform engineered for AI/human hybrid Pen Testing as a Service (PTaaS).
BreachLock delivers the most comprehensive and scalable pen testing by combining manual penetration testing with automated scanning capability to improve scalability and reduce costs within an agile, DevOps friendly platform.
BreachLock™ Penetration Testing Services were built to...
Fully integrate into your DevOps environment.
Deliver high quality penetration testing results and reports, all in a single pane view, so that you can eliminate security risks, gain and retain clients, and get back to what you do best.
Scale pentesting with your application and network.
Execute end-to-end SaaS and DevOps security testing customized to fit your required compliance standards.
Replace your confusing contracts with straightforward pricing and options for your pen testing services.
End-To-End Security Testing
BreachLock™ offers you the ultimate in penetration testing, with security testing coverage that you can manage with a click.
Online Reports
Offline PDF Reports
API Integration
CSV Exports
Remediation Testing
Access To Security Experts
Security Certificate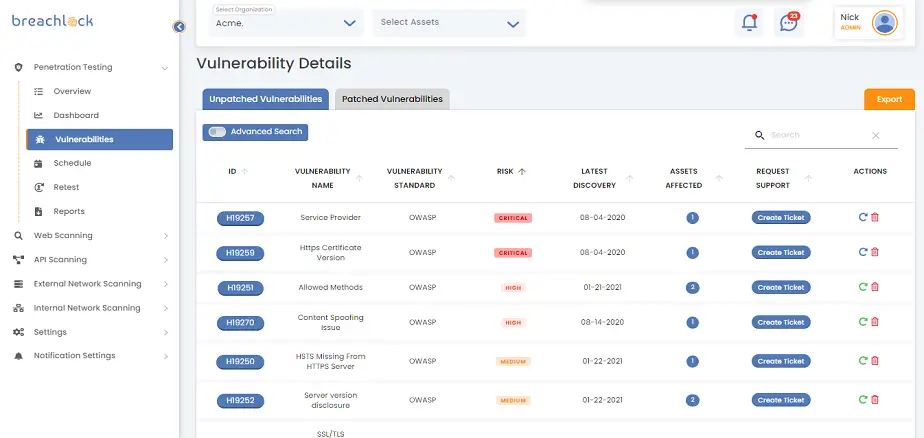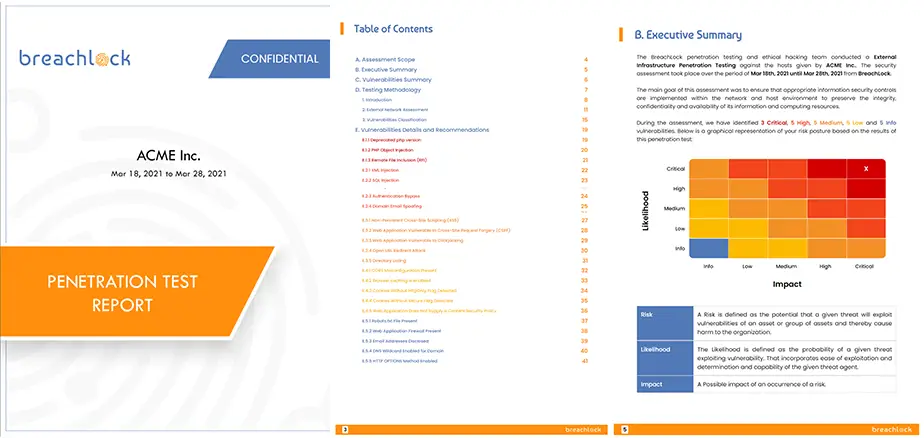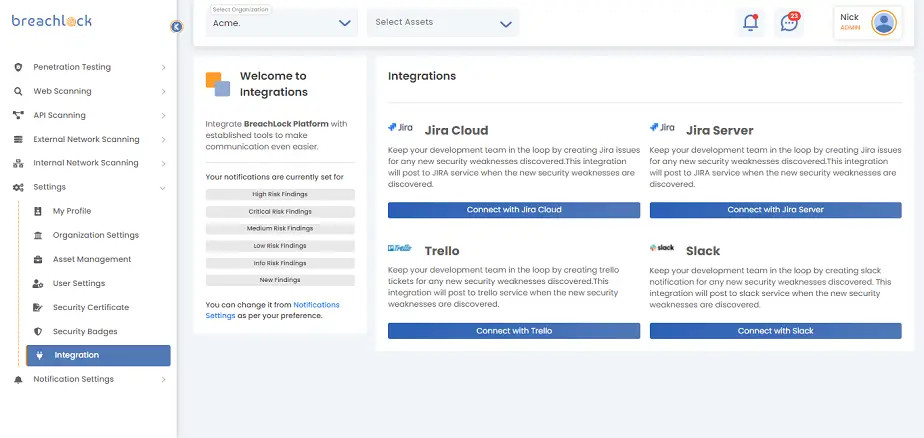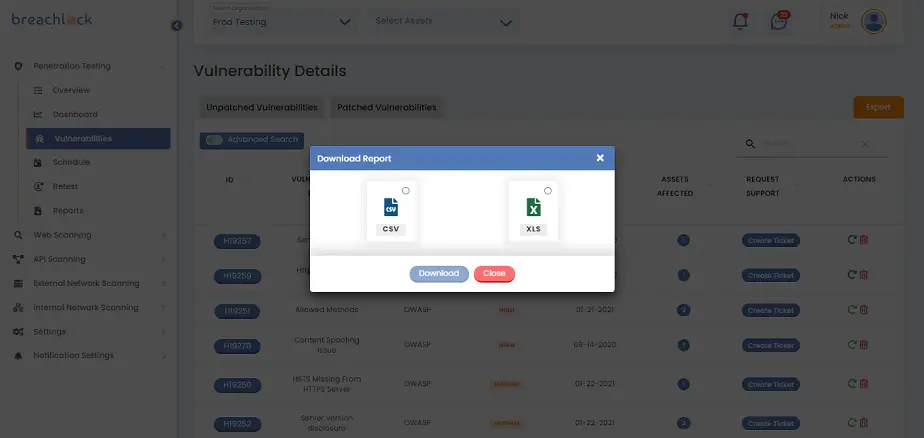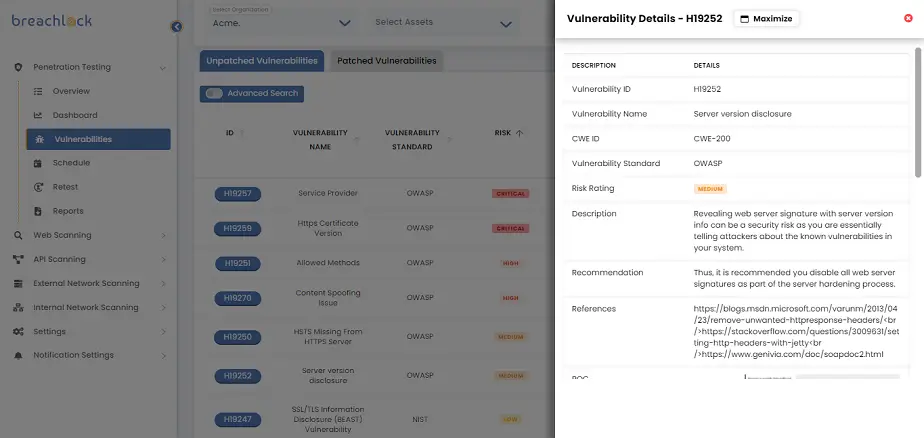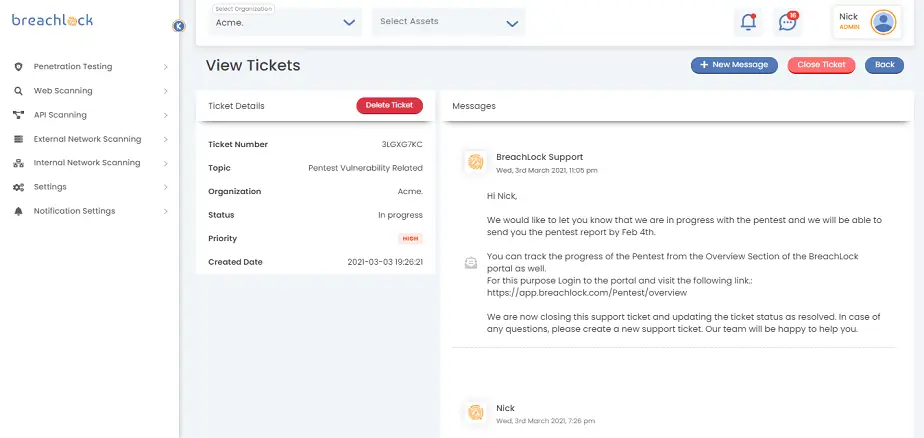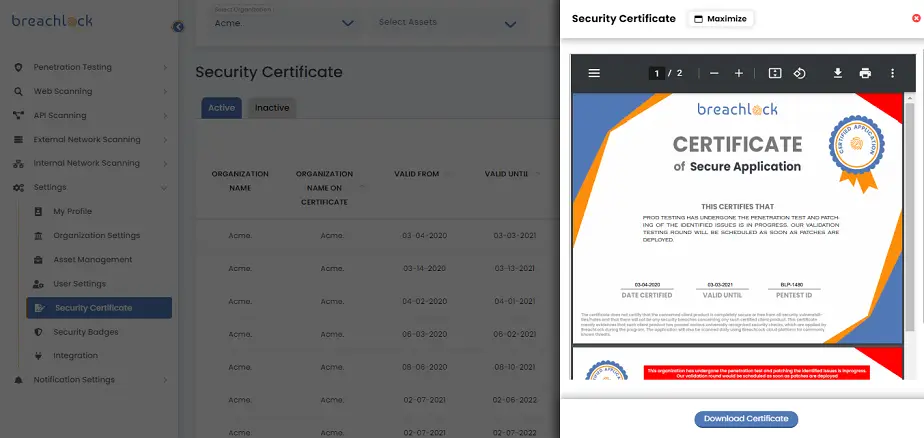 Learn more about BreachLock. Read our
FAQ Page