BreachLock™ Is an Award-Winning Penetration Testing Service Provider
We have earned an impressive client satisfaction rate
Accelerate Results with a Comprehensive Penetration Test Service
BreachLock's penetration testing service provides a number of benefits, including: human-validated findings with DevOps remediation guidance, customer support, cloud-secure client portal with retesting capabilities, third-party security certification, and audit-ready reports.
Experienced and certified team
BreachLock™ manual penetration testing service gives you unlimited access to our world class team of security researchers. Our team has over 100+ CVE's to their credit and are publicly acknowledged by Fortune 500 companies for finding security flaws via published responsible disclosure programs. Our team is comprised of security professionals with decades of security experience and global certifications such as CREST, OSCP, OSCE, CEH, CISA, CISM, SANS and many more.
Industry standard methodology
Our manual penetration test service is aligned to OWASP and OSSTMM testing methodology. As the whole penetration testing service is facilitated via the BreachLock™ cloud platform, this guarantees all projects get a standard quality assurance level and all clients get a consistent experience with high-quality results.
BreachLock™ Penetration Testing Service 4-Step Methodology
Onboarding clients onto our SaaS
Before we begin testing, BreachLock™ along with your company will determine the full scope for your pentest. Clear and open discussion with the customer is integral at this step. All communication is facilitated via our cloud based, secure BreachLock Client Portal which enforces our methodical approach and promotes collaboration between teams. At this stage, we determine the organization's infrastructure, such as domains, servers, and other devices with IP addresses. We then determine if any should be excluded and why. Once we have a list of all of the devices to include for testing, we can then define the exact duration of your penetration test service.
Executing Penetration Testing
We begin to attack vulnerabilities and known weak spots with your web application. We perform this step with the utmost care in order to protect both the web app and your data. We repeat the penetration process using both manual processes and automated tools. We use many methods such as those prescribed in OWASP methodology. Utilizing our SaaS, we are able to scan your systems in order to find the vulnerabilities that are putting your data at risk. The results of this phase are recorded in PDF and online reports that are made available to you within your secure BreachLock Client Portal.
Remediation of Vulnerabilities
The BreachLock™ team collects and compiles all of the obtained information and provides the customer with an initial penetration test report. We also include comprehensive recommendations to aid business leaders as well as the IT team in order to make logical decisions regarding web application security. We provide a list of each vulnerability, including how we tested and how we recommend resolving the risk. At this stage, we provide specific technical details using which the IT team can act quickly. Our online ticketing system can be used to ask any questions to BreachLock™ security researchers.
Retest for Validation of Fixes
After both the business leaders and the IT team are able to read the report and act during the remediation process, we will retest to determine the effectiveness of findings resolution. We will rerun our penetration test on the web application. As a result of the retest, you can download an updated report from within your BreachLock Client Portal. This report will either show a clean build, or a "patched" vs "not patched" status for each finding. If all vulnerabilities are solved, we will also issue you a security certificate valid for 12 months after your penetration test is over.
Get a Quote
Check our sample penetration testing report
Get a Quote
Recommendations from our clients
Luke Hohmann
---
Founder & CEO, Conteneo
Shelly Foster
---
Vice President, Fond
Sophia Baik
---
VP of Operations, Brainfights Inc
Jacqui Burge
---
CEO, Desk Yogi
Luke Hohmann
---
Founder & CEO, Conteneo
Shelly Foster
---
Vice President, Fond
Proactively Find and Fix Application Security Gaps and Network Vulnerabilities with the Penetration Testing Service You Deserve with BreachLock™.
Our Manual Penetration Testing Service is executed by our OSCP, OSCE, CEH, and SANS certified team.
You'll enjoy the quickest turnaround time in the industry, with customer service support and scheduling available in your BreachLock™ Client Portal.
Our penetration testing service covers compliance pentests to help you meet SOC 2, PCI DSS, HIPAA, and/or ISO 27001 regulatory requirements, and more.
Find security gaps, run a retest to make sure your patches are deployed, and get updated reports.
The BreachLock™ Cloud Platform enables you to run automated scans, request a manual penetration testing service, and retest vulnerabilities with just one click.
Get annual coverage for monthly automated scans with manual-validation checks and and 24/7 access to the BreachLock Client Portal.
How BreachLock uses Artificial Intelligence, Cloud, and Human Hackers?
Our cloud platform is supported by certified hackers that discover new hacking techniques and continuously enrich our Artificial Intelligence based checks. BreachLock human hackers focus on discovering complex security vulnerabilities that cannot be discovered by machines.
BreachLock SaaS runs on cloud-based resources in a secured, segmented environment. This guarantees that we can scale our resources as required and while providing a highly secured penetration test service to our clients. This also ensures we can offer the most cost-efficient vulnerability management alternative available today.
BreachLock has developed a reliable attack testing automation framework that augments Artificial Intelligence to reduce human effort required to discover, validate and identify common security flaws.
Discover Pen Testing as a Service (PTaaS)
Accelerate Pen Testing by 50% with a 50% lower total cost of ownership (TCO).
Learn why BreachLock's Pen Testing as a Service has been recognized for two years in a row in Gartner's Hype Cycle for Security Operations (2021, 2022) and how it can work for you.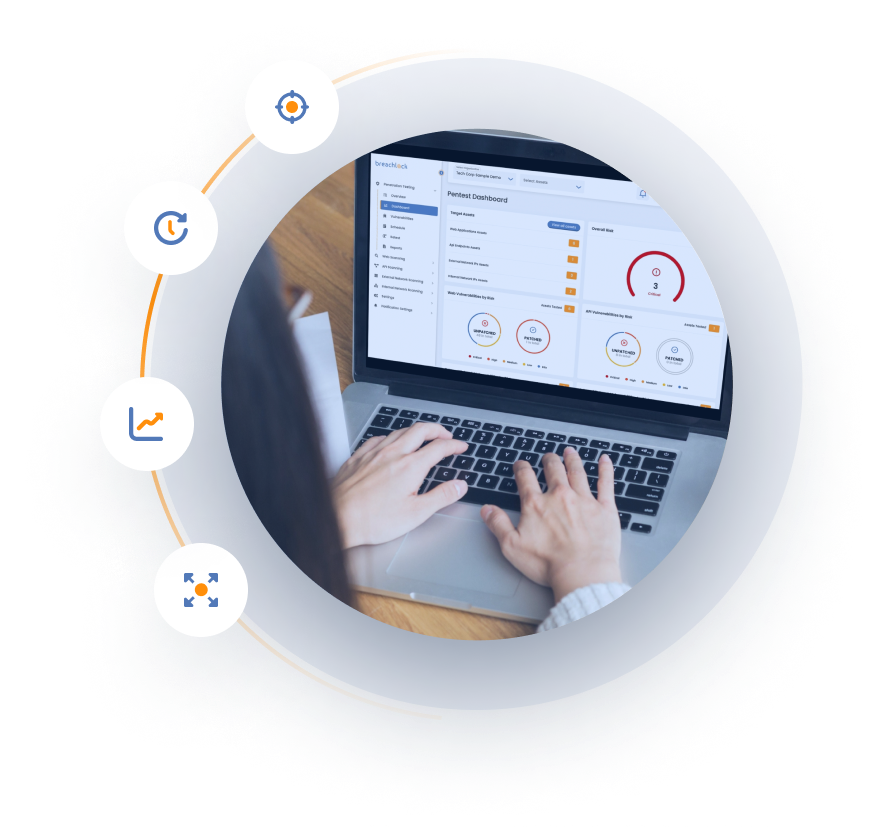 Learn more about BreachLock. Read our
FAQ Page