Updated On 12 May, 2023
Get SET for External Attack Surface Management (EASM)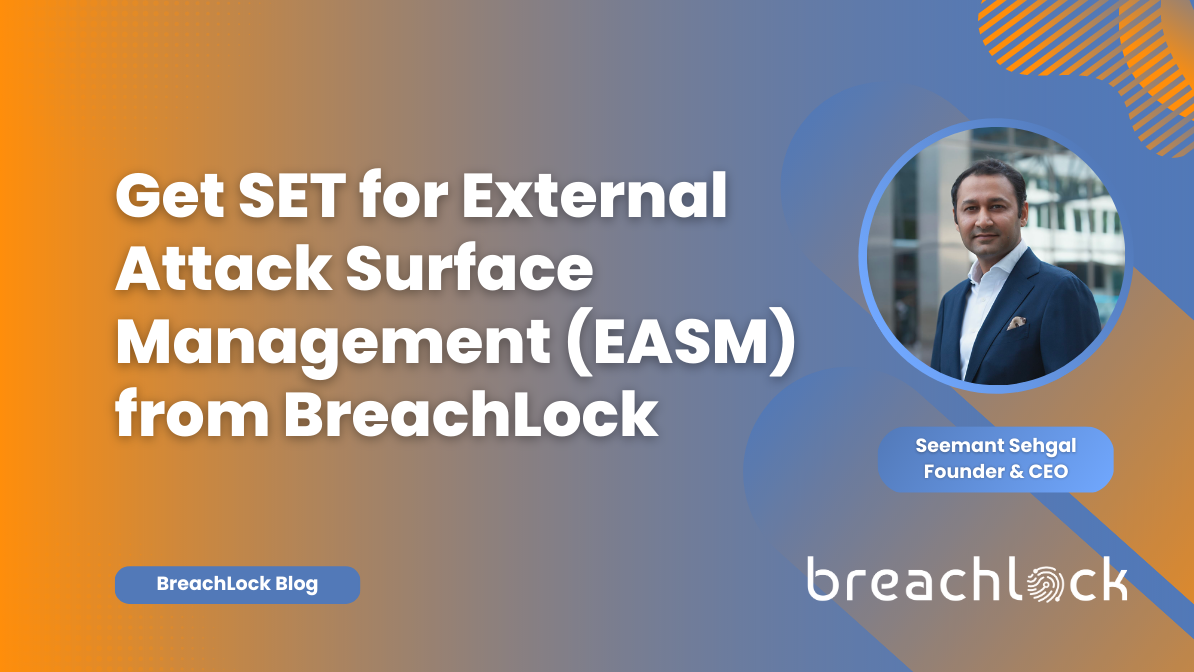 Manage Your Asset Inventory External Exposures with EASM from BreachLock.
By Seemant Sehgal, CEO and Founder, BreachLock
Every internet-connected organization today can be a target for hackers.
You may have heard the adage by now: cyber criminals only have to be right once – defenders have to be right 100% of the time.
With more ways than ever before to break into networks – security teams must get it right every single time to protect and defend their organizations from the ever-evolving cybersecurity landscape.
It's clear that IT Security leaders need a better way to assess external threats and stop them before cyber criminals establish persistence and laterally move inside networks. With the average global cost of a data rising to a stunning $4.35 million – and in the U.S., over 200% increase to $9.44 million – the stakes have never been higher.
It's time to get SET for the new external attack surface management (EASM) solution that helps in-house teams "see external threats" fast before it's too late.
Learn more about BreachLock's new EASM platform.
You Cannot Protect What You Cannot See
IT and Security leaders are responsible to patch external exposures that increase cyber risks. However, one of the primary challenges they face is the lack of visibility into what is connecting to the company network – and how. This visibility should include continuous scanning of the organization's perimeter and its externally facing 'attack surface'. When the CISO and the Security Operations Center (SOC) cannot "see" this external attack surface – they cannot fully protect and defend the organization.
These exposed cyber risks can lead to vulnerabilities that are easy to discover by cyber criminals scanning the internet. When these types of external vulnerabilities are exploited, those vulnerabilities introduce real threats into systems and environments. When a real threat turns into a security event – and the SOC misses it – it can become the next multi-million-dollar security breach in the breach news headlines.
Rogue Assets from Shadow IT
Some teams will deploy digital assets, like a device or a cloud instance, without informing the SOC. As unintentional as it may be, this shadow IT ends up exposing the organization to increased cyber risks. At the same time, the security team responsible for detecting and responding to threats cannot easily "see" these rogue assets. Furthermore, the assets won't be properly inventoried or connected to the security incident and event management (SIEM) tool for continuous monitoring in the SOC.
Examples of unmonitored assets can include:
a misconfigured cloud with sensitive data (i.e., an AWS S3 bucket)
a Kubernetes virtual machine
an unmonitored IP address (i.e., a subdomain set up for software testing)
an unapproved IoT device connected to the company's Wi-Fi
an unauthorized VPN from a remote office
This has left CISOs and the SOC in the dark, and unable to monitor unknown assets that keep the organization's perimeter, endpoints, and critical systems secured.
Alert Fatigue in the SOC
The modern security tech stack typically includes a SIEM, firewall, intrusion protection, intrusion detection, data loss prevention, cloud security, CI/CD, email security, compliance, etc. Left untuned, these tools collectively generate thousands of daily alerts, many of which are false positives. These alerts can cause alert fatigue for security analysts, as they don't provide visibility to see and respond to vulnerabilities exposed on their external attack surface.
Rogue assets could impact the SOC with even more noisy alerts to investigate and triage with DevOps. And the more noise there is in the SOC, the higher the likelihood of an expensive breach.
The CISO's Lack of Visibility
Meanwhile, security tools do generate context, but they lack a single pane of glass offering comprehensive visibility for the CISO. Without visibility, the SOC can fall behind investigating unprioritized alerts and reacting to security incidents caused by siloed programs. This also increases the likelihood of a cyber security breach.
Check out the Top 20 IT security breaches from 2022.
Hybrid Work and the Expanding Attack Surface
In recent years, nearly every organization had to expand their digital footprint with remote office connectivity. Poor planning and lack of governance has led to more rogue assets than ever, including unmonitored endpoints, misconfigured cloud instances, and untested code in production.
As workers follow return-to-office (RTO) mandates, hybrid work environments have become the norm. Meanwhile, remote office endpoints and compromised devices on company networks are risks that must be managed today.
How can the external attack surface be secured?
The modern CISO lacks visibility into the expanding external attack surface. Meanwhile, as external attack surfaces expand, CISOs are now expected to transition from technologists to corporate leaders responsible for managing cybersecurity risks. Managing risks associated with exposed vulnerabilities on the internet is impossible with comprehensive visibility.
With the ability to see all exposures on their external attack surface, a CISO can gain comprehensive visibility to prioritize critical exposures and vulnerabilities for the eagle eye required for cyber risk management with ticketing triage for team workflows. IT and security teams, including the SOC, can then work with DevOps to proactively patch to stop potential threats, proactively conduct remediation, and mitigate of exposures on the attack surface to reduce risk.
What Is External Attack Surface Management (EASM)?
Using an External Attack Surface Management solution, a CISO can see their exposures online as their adversaries would see them – so they can triage DevOps remediation of internet-facing assets exposures and vulnerabilities fast. An EASM platform can detect anything that is scannable on the internet related to the organization's domains.
The technology combines the benefits of vulnerability management, asset identification, and continuous vulnerability scanning for robust external exposure management. With a real-time inventory of online devices and cloud instances that are connected to company network, the CISO can ensure rogue assets are now "seen," identified, and monitored by the SOC – and patched as needed with DevOps.
EASM Creates an Asset Inventory from the Internet
While security analysts are monitoring internal and external networks 24/7, they are watching to ensure there are no impactful security incidents will stop critical web-facing business operations.
IT and security teams can categorize and analyze each asset's vulnerability status for critical, high, medium, and low risk criticality. If an asset needs to be patched or taken offline, the EASM platform will trigger an alert to the SOC regarding the exposed asset. In this way, the rogue assets from shadow IT are eliminated – and the risks of a cyber-attack leading to an expensive security breach can be mitigated and reduced significantly.
Benefits of an EASM Platform
When considering an EASM platform, there are numerous capabilities that can enable in-house IT security teams to find and fix vulnerabilities fast, including:
Vulnerability Discovery and Identification
Visibility into all Asset Exposures
Real-Time Asset Inventory
Automated Web Vulnerability Scanning
Continuous Vulnerability Monitoring
Remediation Guidance with Customer Support
DevSecOps API Workflow Integrations
IT Security Teams Can 'See External Threats' with SET
When you know your exposures – you can prevent your organization from becoming a cyber criminal's next target. The SET platform is engineered to help in-house teams see and secure their complete asset inventory with continuous vulnerability scanning and monitoring.
With continuous vulnerability scanning, risk scoring, and business criticality discovered real-time – SET from BreachLock offers a single pane of glass to see external threats and risks.
The SET platform scans the internet for known and unknown vulnerabilities exposed to the internet – and helps in-house teams respond fast to beat cyber criminals scanning for their next target.
SET provides the steps needed to protect and defend critical assets. Drill in and review each discovered asset and URL affected by each discovered vulnerability. SET provides 24/7 scanning for newly discovered assets, security vulnerabilities, weaknesses, misconfiguration, and compliance issues. With SET, your teams will be alerted if any discoveries are detected.
Gain Full-Stack Visibility with EASM and Pen Testing as a Service
Go beyond the alternatives that complicate penetration testing – and secure your business and IT systems with the ultimate in customer controls and visibility using BreachLock's EASM platform combined with BreachLock's award-winning, analyst recognized penetration testing platform and Pen Testing as a Service (PTaaS).
SET offers a complimentary solution that extends enterprise pentesting capabilities to build cyber resilience and increase security maturity over time. With BreachLock, companies can cut traditional penetration testing turnaround time and costs in half while reducing cyber risks with the innovation of a cutting-edge, high-performance EASM platform.
Meet BreachLock team at RSA Confrence 2023 at booth #1061 (South Expo) to learn more about our latest innovations in Pen Testing as a Service (PTaaS) and offensive security solutions. To learn more, book a discovery call today to see how BreachLock's EASM and PTaaS cloud-native platforms can work for you.
Learn more about BreachLock. Read our
FAQ Page