Updated On 31 May, 2023
5 Reasons to Avoid Traditional Pentesting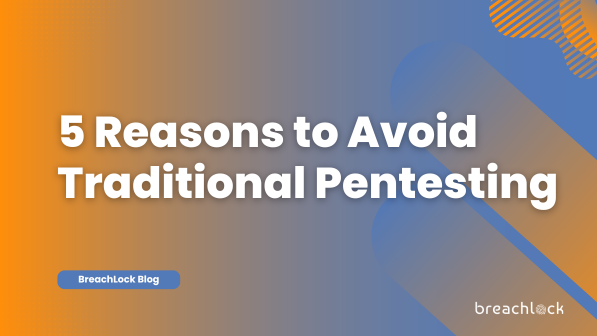 Cybersecurity threats are constantly evolving, and it's important for organizations to stay ahead of potential attacks and manage compliance requirements by regularly pen testing for vulnerabilities.
Pentesting involves certified ethical hackers attempting to breach your IT system's cybersecurity and providing a report and recommendations to improve security and compliance. Pentesters use technology and expertise to discover, scan, and report on vulnerabilities, security gaps, and remediation guidance to take to patch and protect the system.
One effective way to do this is through Pentesting as a Service (PTaaS), an emerging category that has been defined by analyst firm, Gartner Research.
Read more: BreachLock Named Sample Vendor for Penetration Testing as a Service (PTaaS) in Gartner Hype Cycle for Security Operations, 2022 and 2021 for 2 years in a row
What does PTaaS provide?
PTaaS is a modern approach to pentesting that utilizes a combination of manual human-led pen testing, AI, and automation tools and techniques to mitigate the cybersecurity skills gap being faced by security leaders globally.
According to Gartner Research's Hype Cycle for Security Operations 2021 report, "Pentesting as a service (PTaaS) provides point-in-time and continuous application and infrastructure pen testing services which traditionally relied on human pentesters using commercial/proprietary tools. The service is delivered using a SaaS platform, which leverages a combination of automation and human pentesters to increase the efficiency and effectiveness of the results."
With PTaaS, CTOs and CISOs can tap into a deep bench of expertise to maximize and consolidate their pen testing investments with one trusted security provider. PTaaS helps IT security leaders meet regulatory requirements, prepare for compliance audits, accelerate remediation, and improve security outcomes. As an affordable subscription, security leaders can budget for PTaaS by consolidating the various security testing budgets around the organization and re-allocating those investments into one unified cloud platform for both pen testing and security testing.
Beyond consolidation with one preferred provider for testing, there are a variety of compelling drivers causing security leaders to shift to the penetration testing as a service model for their entire security testing needs. Read on for the top reasons CISOs, CIOs, and CTOs are making the shift to PTaaS.
Why shift to Pentesting as a Service?
For the same reasons most leaders are being challenged today, security leaders are being asked to "do more with less." One way to do that effectively is to consolidate the company's security testing budgets and use PTaaS.
Security leaders have dealing with the limits of traditional pentesting and not getting the results they need. To get more for less, the power of partnering with a proven provider for effective, efficient PTaaS delivers results.
These five reasons are motivating the shift.
Traditional pentesting takes too long.
Traditional pentesting is expensive.
Traditional pentesting does not scale.
Traditional pentesting is inflexible.
Traditional pentesting lacks agility.

These five 'final straws' have motivated CISOs to abandon traditional penetration testing and embrace the power of PTaaS.
1) Traditional pentesting takes too long.
Traditional penetration testing companies take weeks and months to schedule their next client's pen tests. Modern security programs do not have time for a third-party provider to dictate when their security testing is conducted. Testing availability is a pre-requisite for security operations and engineering. Legacy providers are not able to offer on-demand scheduling – which slows down the business and potentially increases risks for clients who are under contract with those providers for third party testing.
The right PTaaS provider can start a pen test engagement within twenty-four hours. That makes it easier to reach important deadlines for compliance, to quickly satisfy stakeholders, and to ensure smooth product launches and updates with every penetration test.
2) Traditional pentesting is expensive.
Traditional pen testing is expensive and wastes valuable time for in-house teams.
A top benefit of Pen Testing as a Service is its cost-effectiveness. PTaaS offers augmented offensive security expertise without the need to hire expensive in-house resources or invest in a significant capital expense upfront. This frees up in-house teams so they can focus on their day-to-day tasks and enables those responsible for DevSecOps with actionable, integrated remediation guidance. Furthermore, the right PTaaS provider will offer a pricing structure that is predictable based on your unique system and compliance requirements.
3) Traditional pentesting does not scale.
Traditional pentesting approaches are static and do not adjust for changes when under contract. Furthermore, as companies need skilled talent to conduct testing, they may be unable to hire the right pentester to get the job done.
Pen Testing as a Service offers a scalable approach to scoping and scheduling the frequency of pentesting without having to budget for expensive, hard-to-find FTEs.
Offering a roster of certified experts to conduct tailored pentesting, PTaaS helps organizations of all sizes scale up or down pentesting capabilities to reach their next milestone. Organizations of all sizes, from start-ups, SMBs, government, to large enterprises, can reap the PTaaS advantage to scale operations. With the right provider, organizations can continue to improve security outcomes long after the pentest is over by leveraging subscription benefits, such as retesting and automated vulnerability scanning for 24/7 coverage.
4) Traditional pentesting is inflexible.
Traditional providers offer a menu of pentests, and that's it. If an organization has an in-house pentester, they cannot use that staffer for independent, third-party penetration testing.
Pen Testing as a Service is the key to flexible pentesting, as it allows organizations to tailor pentests to their unique needs. Scheduling is easy and on-demand, scopes can be customized, and customer support is available to manage a client's unique requirements for independent security and compliance testing.
5) Traditional pentesting lacks agility.
Legacy penetration testing does not work for today's modern development and engineering teams working together on DevSecOps and performing CI/CD security testing.
Pen Testing as a Service allows organizations to adapt quickly to new threats and vulnerabilities while providing an agile and responsive approach to managing cybersecurity risks. With SaaS capabilities, security leaders can manage it themselves, or designate an administrator, and integrate the DevSecOps approach for continuous security testing.
From there, pen tests can be ordered, continuous vulnerability scans can be set up, retests can be run, and remediation tasks can be assigned via API ticketing integrations that support in-house team workflows. These features can be directly used by agile teams who need real-time, on-demand security testing to reach their product roadmap and launch timelines.
Extend Your Team with Pentesting as a Service
Penetration Testing as a Service solves an array of challenges that security teams face today – from staffing to compliance to the penetration testing backlog. It's crucial for organizations to continuously identify and address security vulnerabilities, ensure compliance regulations are met, and improve their overall security posture.
By shifting to penetration testing as a service, security leaders can accelerate the organization's security program for greater visibility into full-stack systems and help DevSecOps teams stay ahead of potential risks and vulnerabilities proactively. By combining the organization's security testing functions into the PTaaS solution, you can create a comprehensive approach to identifying and addressing vulnerabilities, ensuring compliance, and improving your overall security posture while improving ROI and reducing TCO at the same time.
Improve Security with Pentesting as a Service from BreachLock
BreachLock's award-winning, analyst recognized Pentesting as a Service solution was engineered to improve security outcomes for today's modern CISO who needs a security solution that is fast, smart, and scalable. With a secure cloud platform with a SaaS portal, CISOs can manage their security risks with certified, in-house penetration testing across their full-stack IT systems:
Continuous scanning. Rather than getting a point-in-time snapshot, the BreachLock PTaaS solution offers continuous insights into vulnerabilities and associated risks.
Hybrid model combining both human and machine. BreachLock's in-house security experts are CREST, OSCP, OSCE, CEH, and SANS-certified. Using automated tools and human creativity, they comb through an organization's assets to detect vulnerabilities, eliminate false positives, and confirm whether new issues have emerged.
Network, cloud, and application security testing. Instead of investing in a different solution for each system, organizations can use PTaaS for full-stack testing on applications, systems, and assets across internal and external networks, endpoints, IoT, and cloud environments.
Single pane of glass with controls. Using the BreachLock Client Portal, internal teams have on-demand access to automated scanning and manual testing via a cloud-native portal to manage risks to applications, cloud environments, internal and external networks.
Secure your entire attack surface across your digital ecosystem with BreachLock's Pentesting as a Service with full stack pentesting for internal and external environments, applications, and systems.
The experts at BreachLock can help your team launch PTaaS before the next costly security incident occurs. Schedule a discovery call and learn how you and your team can take control now with PTaaS to proactively protect and defend your organization's assets, systems, data, and users.
Learn more about BreachLock. Read our
FAQ Page