Updated On 20 February, 2023
Vulnerability Scanning And Penetration Testing For SOC 2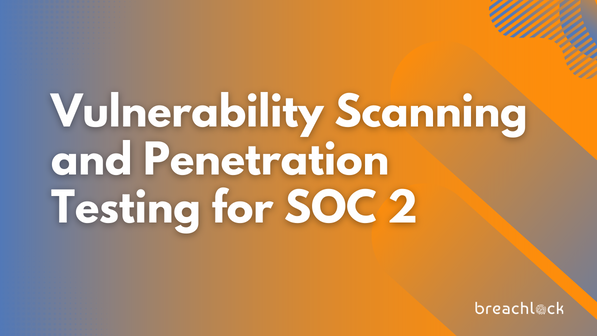 SOC 2 is a standard developed by the American Institute of Certified Public Accountants (AICPA) for service providers that store customers' data in a cloud environment. 
SOC 2 requires SaaS companies to establish, implement, and follow strict information security policies, processes, and procedures based on five trust service principles (TSPs) – Security, Confidentiality, Availability, Processing Integrity, and Privacy of customer data. 
Recently, SOC 2 has become a requirement for SaaS companies when acquiring new clients. Many companies have strict policies against working with vendors that aren't SOC 2 compliant and require that their vendors implement third-party security practices. 
Refer to the infographic below to learn more about Vulnerability Scanning and Penetration Testing for SOC 2 compliance.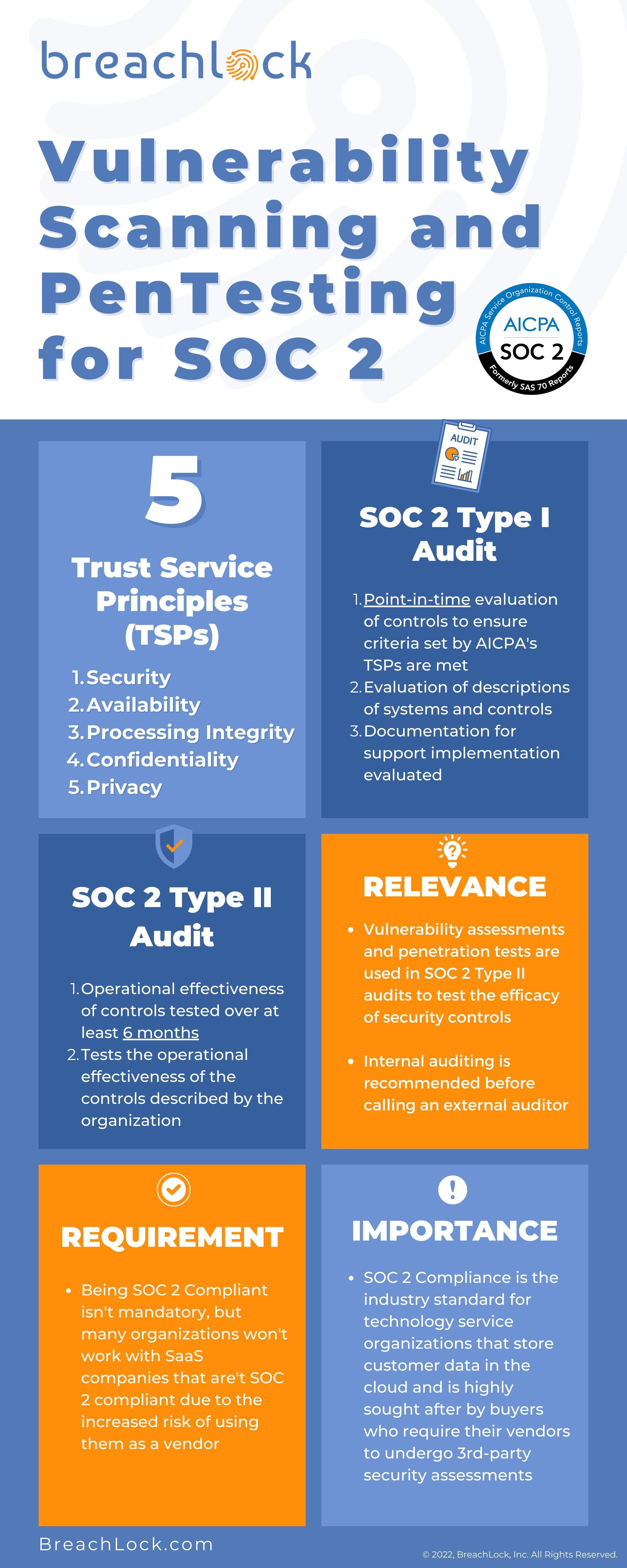 How does SOC 2 Type 2 Help Third Party Security and Vendor Selection?
Third party compliance is complex. Selecting the right vendors for your supply chain security is mission-critical to managing your overall risk and meeting compliance requirements. When using SOC 2 Type II as a security standard, you can meet your third-party security requirements and proactively manage risks in the supply chain. With SOC 2 Type II as a vendor requirement, you can streamline your RFP process and avoid non-compliant vendor contracts from automatically renewing. This frees up time to focus on only the vendors that have SOC 2 Type 2 reports in place. A current SOC 2 Type II report demonstrates that your vendors and suppliers are actively meeting your third-party security requirements. 
Meet SOC 2 Type II Vendor Requirements with BreachLock
BreachLock offers Fast, Comprehensive, and Scalable Penetration Testing as a Service that helps hundreds of customers meet third party security requirements like SOC 2 compliance. BreachLock delivers results 50% faster and 50% more affordably than traditional pen testing providers through the user-friendly BreachLock PTaaS Platform. Our security experts will work with you to capture your precise SOC 2 Type 2 pentesting requirements, and we can begin your penetration test in 24 hours. Book your discovery call today! 
Learn more about BreachLock. Read our
FAQ Page