Updated On 14 August, 2023
Penetration Testing as a Service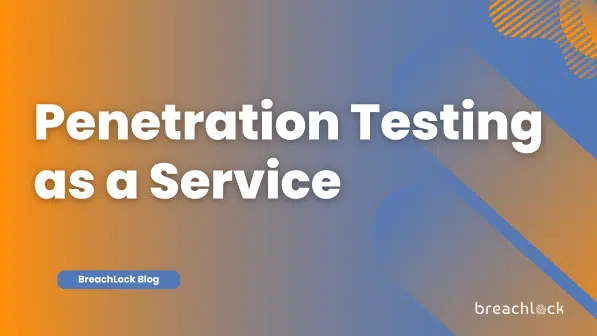 A new way to conduct penetration testing as a service is rising as traditional solutions fall short.
Penetration testing has become an integral part of an organization's security strategy in the last few years. It assists an organization in discovering existing vulnerabilities, loopholes, and weaknesses in the existing infrastructure. It is always recommended that penetration testing as a service should be conducted at regular intervals to minimize the chances of a security incident.
There are two reasons to conduct penetration testing as a service:
Security: Experts recommend that penetration tests be conducted regularly to reduce the risks of a security breach.
Compliance: Mandates, such as PCI DSS requirements and HIPAA requirements for certified pen testing and vulnerability scanning at regular intervals.
Due to the dynamic nature of today's cyber-attacks and the talent demand caused by the cybersecurity skills gap, hiring and retaining certified, in-house penetration testers is challenging. While pentesting inside the org can strengthen audit-readiness, patch management, and incident response, these capabilities are difficult to build into routine security operations. Furthermore, organizations may want to outsource the engagement, as the costs associated with an internal team are significant.
As a common go-to approach, third party penetration testing gets this complex job done without hiring more staff. Security leaders can accelerate results by tapping into the right expertise at the right time while gaining the following advantages:
Access to qualified pentesters for accurate, on-demand testing.
Certified pen test reports for compliance and security audit-readiness.
Validation of in-house testing by an unbiased external provider.
A New Way to Test On-Demand
The primary goal of penetration testing is to simulate a real-life attack on a specific IT system to assess a number of criteria for security and compliance.
As the demand for certified testing has increased, service providers are now offering Penetration Testing as a Service (PTaaS) as a subscription to help companies accelerate pen testing for maximum results and affordability. PTaaS gives security leaders the benefits of an internal team through a subscription model for on-demand pentesting – without having to hire costly headcount or capital expense.
Ideally, with penetration testing services, you'll be able to conduct full stack testing across your entire organization's digital ecosystem, including:
Network pentesting (Internal and External)
Social engineering and phishing simulations
Wireless network pen-testing (Internal and External)
Penetration testing on cloud platforms such as Google Cloud, AWS, etc.
IoT/ICS and Embedded system pentesting
Depending upon organizational requirements and services provided by a service provider, an organization can select one or multiple services to ensure that all the ends are covered.
Learn why security leaders are evolving their security and compliance testing in the explainer video below.
Video: BreachLock's Penetration Testing as a Service (PTaaS)
What should Penetration Testing as a Service include?
When it comes to an organization's security, the decision-makers often face the dilemma of selecting a penetration testing service provider, or as we call it – penetration testing partner. We have listed some of the important parameters that will assist in the decision-making process.

Penetration Testing as a Service selection criteria
Certified Pentest Reports: As with a normal pen test, penetration testing as a service engagement concludes with a certified pentest report with actionable insights. The report includes identified vulnerabilities, potential attack paths, and security gaps with detailed, contextual remediation guidance. Reports are audit-ready and easy to share with stakeholders.
Human-Led, AI-Enabled Results: Look for a hybrid approach with human-led, AI-enabled processes and automation for comprehensive results. A dedicated ethical hacker expertly conducts the pen test using proprietary tools and industry-recognized methodologies to assess the system within scope, validate findings, remove false positives, and provide early remediation guidance along with the final report.
Faster Turnaround Time: The ideal PTaaS provider should complete the assessments on mutually agreed deadlines while properly prioritizing necessary activities to securely test critical systems without interrupting business continuity. Scheduling is easy and available within 1-2 business days.
Tailored Engagements: Every organization has its own set of security and compliance issues that it deals with on a regular basis. A service provider should conduct tailored engagements to meet your pre-defined goals and help you avoid unnecessary cost overruns and scope creep.
Expert Personnel: The provider should offer a team of industry leaders or subject-matter experts with extensive experience attack techniques and security research. Your assigned penetration tester should have applicable work experience and certifications to conduct your test, along with a clean background check, history of satisfied clients, and established reputation in the cybersecurity community.
Ultimately, ranking these factors in your selection process can help you identify the ideal provider quickly. These considerations influence the level of visibility you'll gain from each offensive security engagement. With complete visibility to view assets, vulnerabilities, and assigned risk scores, you'll enable your in-house teams to take action. Furthermore, the right provider will provide integrated, early remediation guidance supplemented with expert customer support to mitigate critical risks fast and reach goals on-time.
How to Evaluate Penetration Testing as a Service Providers
As with any new solution in the IT marketplace, security leaders must evaluate carefully to get the most value out of the investment. Every dollar matters in the security budget, and nascent solutions often fall short on their promises. Some providers will claim they have the latest solution, like PTaaS, to win or retain customers, when in fact, the solution is the same offering repackaged, and not on par with the true definition defined by industry analysts.
Three priorities to screen vendors include the following attributes:
Full stack pentesting capabilities
In-house, certified penetration testers
Third party security qualifications
Full Stack Penetration Testing
One benefit of PTaaS is the ability to streamline security testing across the organization with full stack pentesting to reduce total cost of ownership and maximize ROI.
Full stack penetration testing as a service gives in-house teams two distinct advantages:
Full Stack Visibility to contextually understand how compromises could occur on high-potential attack paths across multiple systems.
Flexibility to manage vulnerabilities that put data, users, and assets at risk throughout the entire digital ecosystem.
Unfortunately, there are several companies claiming a robust PTaaS solution, but only test internet-facing assets, such as web applications and mobile apps. That type of provider can only partially fulfill an organization's security and compliance requirements. By prioritizing vendors that offer full-stack testing of IT systems, including networks, clouds, and applications, security leaders can truly maximize their PTaaS benefits by strengthening the organization's third-party testing with one trusted partner.
In-House Pen Testers or Contractors?
There is also confusion on in-house pentesting, vendors who use contractors, and bug bounty programs—as many of the bug bounty vendors are now also offering Pentesting as a service. While utilizing bug bounty programs and contracted hackers can be a cost-effective option, it critical to consider the risks associated with insider threats.
What is your organization's risk tolerance for giving access to bug bounty hunters to conduct compliance-required pen testing? If the answers range from low- to no-tolerance, you'll want to find a vendor that offers in-house, full-time ethical hackers to support third-party security and quality assurance. When pen testing services are delivered by 100% in-house staff, you can maximize your outcomes and reduce risks from unknown actors who may have evaded background and certification checks through the bug bounty staffing model.
Hiring a security company with in-house, vetted penetration testers with experience and certifications also establishes a higher level of accountability and trust within your organization. An experienced provider's in-house team will have experts that can safely and accurately test specific systems and infrastructure. Tapping into this bench of talent allows for more tailored and effective security testing. This can help augment your teams' capabilities without over-taxing existing resources or having to hire additional consultants for 1-off engagements.
Dedicated, In-House Penetration Testers
The right Penetration Testing Service provider will assign an in-house pen tester from a deep bench of certified, offensive security experts to conduct your human-led, certified, audit-ready pen test. This dedicated, in-house tester ensures pen tests are consistently completed on time, within scope, and without introducing new risks.
Check Third Party Security Qualifications
When selecting a security services partner, it's crucial to research their qualifications and track record, as they will be critical third-party digital supplier accessing your IT systems.
Request references, case studies, and reviews from current and previous clients. Check for industry experience, customer satisfaction, ethical standards, and methodologies used.
Check the vendor's certifications to confirm they can meet your 3rd party security requirements, such as CREST, ISO 27001, and SOC 2.
Confirm the vendor has been acknowledged by industry analysts, such as Gartner Research.
BreachLock is proud to be an early pioneer in the emerging category of pen testing as a service. Since being 2021, our Pen Testing as a Service has been cited two years in a row in the Security Operations Hype Cycle report by Gartner Research. Most recently, BreachLock was cited for its DevSecOps tool in Gartner's 2023 Secure Software Delivery Report.By thoroughly vetting potential vendors, organizations can strengthen cybersecurity risk management with pen testing as-a-service. Ultimately, taking these precautions can save a company from costly security breaches and reputational damage in the long run.
Questions to Ask Penetration Testing as a Service Provider
It's critical to evaluate potential vendors will be able to fulfill your unique pen testing and vulnerability management requirements. Use the following questions to help you identify the right vendor.
12 Sample Questions to Ask a Potential PTaaS Provider:
Do you offer a complimentary vulnerability assessment as part of the pentesting exercise?
Do you offer full-stack testing to test the entire digital ecosystem?
Do you provide a hybrid, human-led approach that combines human intelligence, automation, and artificial intelligence?
How do you identify and remove false positives?
Do you use in-house pen testers or independent contractors?
Do you offer compliant pen-testing beyond internet-facing infrastructure and external applications? e.g., network, CI/CD security, IoT, cloud, API endpoints
Do you provide a secure client portal that provides a single pane of glass to patch vulnerabilities, access reports, and take action on remediation?
Do you offer vulnerability scanning and retesting after the pen test is over?
Are your final pen test reports easy to share with internal stakeholders and auditors?
Do you provide customized remediation guidance for DevSecOps?
Do you offer API ticketing integrations to streamline DevOps workflows?
Do you offer customer support before, during, and after each pen test with in-house teams?
How does Pen testing as a Service work at BreachLock?
BreachLock follows a repeatable, flexible approach to addressing the issues faced by an organization so that its requirements are duly fulfilled.
We test systems thoroughly, while at the same time, ensuring that business operations are not disrupted.
Our suite of full-stack security testing services extends to the cloud, applications, internal and external networks, SaaS and software testing, IoT, compliance, DevSecOps, and more.
We only use dedicated, in-house experts to conduct your tests with a unique method that combines manual testing techniques enabled by AI and automated tools – maximizing speed and accuracy without false positives.
Our proprietary, unique approach enables your teams for DevSecOps agility – as we integrate remediation throughout the entire lifecycle of each penetration test and have smart API plugins for DevOps workflow and ticketing management.
Curious to learn more? Discover how BreachLock works.
Download the CISO's Guide to Penetration Testing as a Service
As a new path forward, Pen testing as a Service enables DevSecOps teams to take action to stop preventable security breaches before it's too late. This proactive approach to security testing stops downstream impacts – such as alert fatigue or a reportable breach – from impacting the Security Operations Center and the organization's bottom line.
It's time to go beyond traditional pen testing and maximize ROI and security outcomes. In The CISO's Guide to Penetration Testing as a Service, see how you can prevent breaches now and build security maturity over the long run – and evolve past the old school problems associated with traditional penetration testing. Download the Guide.
Ready to see how our cloud-native platform and pentesting as a service can work for your organization? Schedule a discovery call with one of our offensive security experts and see how we can help you save time and money with PTaaS from BreachLock.
Learn more about BreachLock. Read our
FAQ Page