Updated On 7 March, 2023
How Modern Pen Testing Improves Cybersecurity Risk Management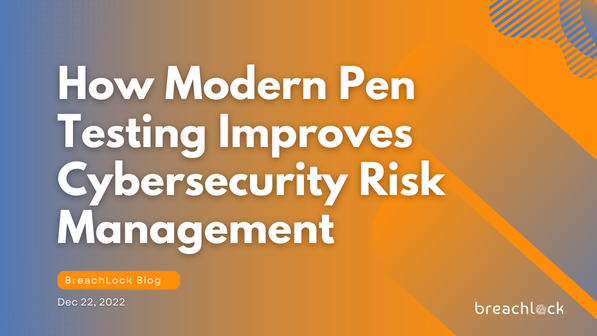 Businesses across the globe are becoming increasingly reliant on pentesting exercises to secure their IT infrastructure.
According to recent research, 75% of security leaders surveyed consider measuring security posture and compliance requirements as primary reasons for performing a pen test.
Technology leaders aim to reduce security risks by integrating pentesting exercises in their security operations to minimize overall risks to their business operations. Pentesting also helps timely detect existing vulnerabilities before ever-increasing threat actors exploit them.
What can a penetration test do for your business?
A pen test is a simulated security exercise on your organization's IT assets to test existing defense mechanisms and evaluate security posture. A penetration testing team uses tactics, techniques, and procedures (TTPs) employed by hackers to replicate a real-life cyberattack. The scope of a pen test includes computer systems, services, databases, networks, APIs, websites, and applications. An extensive pentesting exercise conducted by experts can help you visualize how hackers can exploit weaknesses in your IT systems and disrupt your business operations.
From a high-level perspective, a pen test can help you in four significant ways:
Test the efficiency of internal security controls, policies, and practices
Fulfill your compliance obligations under a regulation, law, or industry-accepted standard
Evaluate the security awareness of your employees with the help of social engineering and phishing testing
Analyze how your organization reacts to a security incident
Why is pen testing necessary for cybersecurity risk management?
In a recent survey of global CEOs, 40% of respondents listed cyber risks are their number one risk to growth – outranking health risks, macroeconomic volatility, climate change, and social inequality.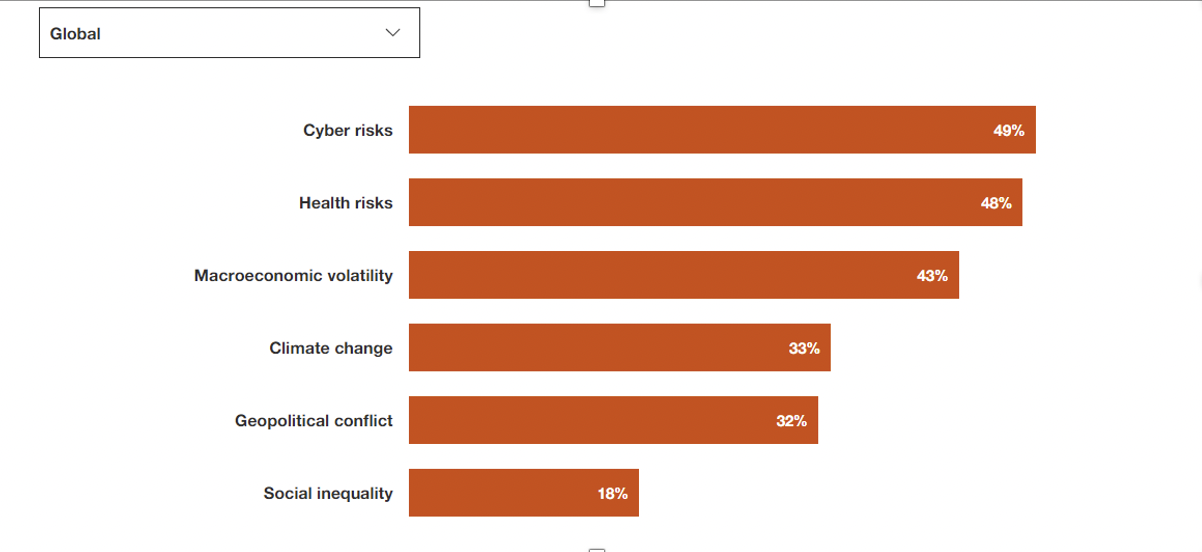 Cybersecurity decision-makers are not just limited to creating hundreds of policies and procedures and spending financial resources to manage their security risks. A better approach is to build an effective security posture that offers a cohesive balance among three critical components: people, policies, and technologies. Investing in any two components and but ignoring the other will not lead to a robust security posture that decision-makers hope to achieve.
For example, when it's time to conduct the annual penetration test for a company's customer-facing, revenue-generating web application, a modern penetration test for compliance offers a risk management opportunity to test and remediate the "technology" to ensure GRC "policies" are met. But if the engineering team responsible for the web app's code are lacking in training for secure code best practices and DevSecOps processes, the "people" component is still posing a risk.
As threat actors evolve and find ways to target businesses, a penetration testing company or ethical hacker you've hired can come in and help identify vulnerabilities for fast remediation and validate your security practices. This validation happens in a real-world environment using the methods employed by threat actors.
Once pentesting begins, you should receive an initial vulnerability assessment which helps you understand the existing vulnerabilities in your IT assets. These vulnerabilities could be potential entry points that hackers might exploit. Experts conduct controlled exercises to exploit these vulnerabilities and evaluate the impact of successful exploitation on your business.
Once a pen test is completed, you can proceed further with suggested remediation measures to improve your internal security controls, and you can mitigate the newly assessed security risks efficiently. This contributes to your compliance initiatives, and, as a result, can build trust with your clients.
How can you assess security risks with pentesting?
If your organization complies with one or more cybersecurity regulations, there is a good chance that you already have a cybersecurity risk assessment process in place. That risk assessment was conducted to identify vulnerability, threats, and risks, estimate the probability of risk realization, and define mitigation measures based on the severity of risks and likelihood of occurrence.
Beyond the risk assessment, pentesting offers a focused way to assess cybersecurity risks by identifying and exploiting existing vulnerabilities in a system. With the help of pen test exercises throughout your full-stack environment, you can identify, assess, and prioritize the cyber security risks your business needs to manage.
When pentesting becomes a part of your cybersecurity risk management strategy, there will be three main goals to achieve in each pen test:
Identification of data and resources,
Detection of vulnerabilities, and
Defining risks and threats.
Let's cover each of these more in detail.
Data and Resources Identification
The first step in using a penetration test for cybersecurity risk management is to identify the scope of the data and resources that must be protected within an environment. Some examples of this include financial information, intellectual property, database, client information, employee details, etc.
Vulnerability Detection
The second step in leveraging pentesting for cybersecurity risk management is focused on existing vulnerability detection. This is where the vulnerability assessment comes into the picture, which is usually the first stage in a pen test.
Cyber Security Risks and Threats to Manage
The third step's objective is to define cybersecurity risks and threats. Penetration testing experts estimate the likelihood of realization of risks and potential impact. When scoped correctly, the engagement is a balanced security exercise, considering time, cost, vulnerability coverage, outcomes, and results. Different regulations and standards, including NIST, PCI DSS, HIPAA, GDPR, ISO 27001, and SOC 2, require conducting routine penetration tests to maintain compliance.
Improve Cybersecurity Risk Management with AI-Driven Pentesting
Pentesting exercises have become a valuable part of any organization's comprehensive security program. Well-documented pentesting reports provide clear guidance on securing your IT assets from ever evolving cyberattacks.
BreachLock delivers the most comprehensive Pen Testing as a Service (PTaaS) platform powered by AI and certified hackers. BreachLock's Client Portal, hosted on a secure cloud platform, offers security and business leaders the ability to order penetration tests with the help of a few clicks. It features automated and manual vulnerability discovery methods aligned with industry best practices.
Uniquely BreachLock, once you implement our expert guidance for remediation, we retest your fixes and certify you for the execution of a successful pen test. All the outputs from pentesting exercises can be readily used in your risk management process so that you can document cybersecurity risks and record mitigation measures implemented to minimize the impact of a risk.
When it's time shore up your cybersecurity risk management strategy with penetration testing without the false positives – BreachLock's experts are ready to join a discovery call with you.
Sources:
https://static.helpsystems.com/core-security/pdfs/guides/cs-2022-pen-testing-report.pdf
https://www.ibm.com/reports/data-breach
https://www.pwc.com/gx/en/ceo-agenda/ceosurvey/2022.html
Learn more about BreachLock. Read our
FAQ Page