Updated On 7 March, 2023
BreachLock® Wins Cybersecurity Excellence Award for Pentest as a Service (PtaaS)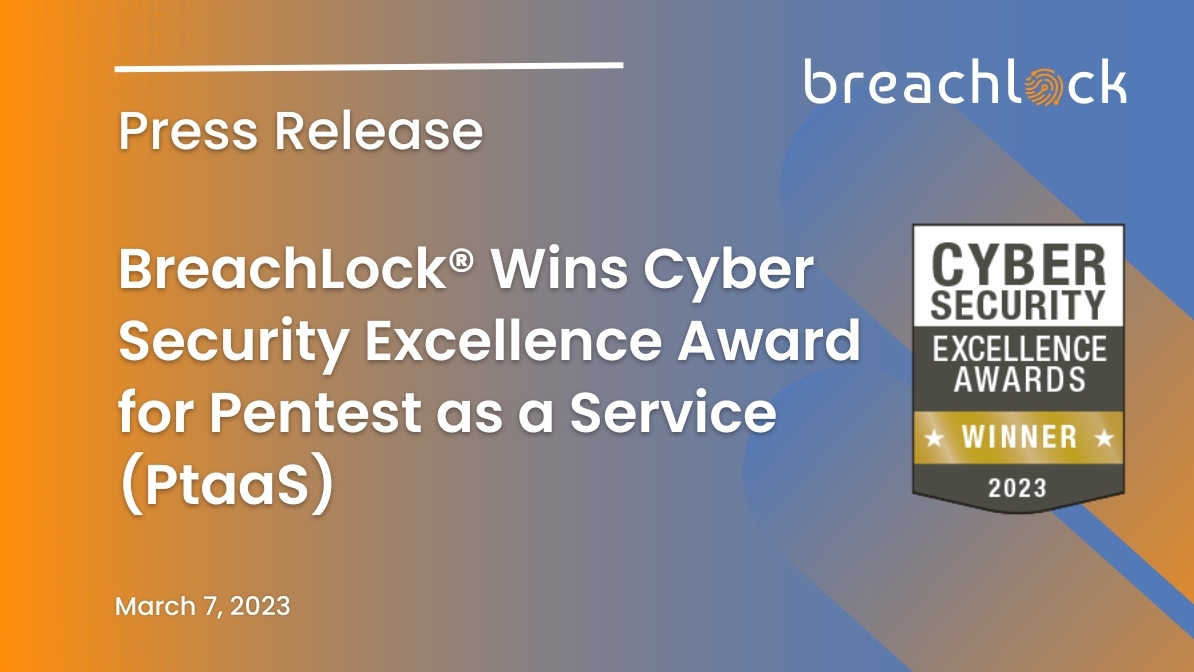 BreachLock has been awarded the Cybersecurity Excellence Award for delivering world-class Pentest as a Service (PtaaS) for its international client base and global partners.
NEW YORK, March 8, 2023 /PRNewswire 
BreachLock has been awarded the 2023 Cybersecurity Excellence Award in the Pen Testing as a Service (PTaaS) category for its leadership and innovation in offering full-stack, AI human-led penetration testing services. Read more about the award here.
"It's an honor to receive the Cybersecurity Excellence Award for leadership and innovation for our Pentest as a Service offering," said Seemant Sehgal, Founder & CEO of BreachLock. "We built our PTaaS solution for organizations that need a better way to conduct routine penetration testing. Fast forward to four years later, BreachLock is successfully driving offensive security strategy results for clients."
The Cybersecurity Excellence Awards honors individuals and companies that demonstrate excellence, innovation, and leadership in information security.
Since 2018, BreachLock has supported enterprises and SMBs with client-driven innovations in penetration testing services that optimize investments in security validation. The company continues to experience significant growth year over year.
"Security leaders are not getting their return on investment from the penetration testing budget," Sehgal continues. "Our Pentest as a Service offering solves that by combining human expertise with Artificial Intelligence, giving our customers more control and unparalleled benefits to reduce risk and securely launch revenue-generating applications on time."
Beyond its flagship Pen Testing as a Service (PTaaS) offering, BreachLock provides full-stack penetration testing services that cut lead time and TCO in half. BreachLock's hybrid approach enables their in-house, certified pentesters to deliver pentesting at scale through the BreachLock cloud-native client portal. Established in the pentest marketplace, BreachLock has earned analyst and award recognitions for its pioneering leadership as a top PTaaS provider.
About BreachLock
BreachLock® is a global leader in cyber security testing and penetration testing services combining the power of human hackers, AI, and automation. With its cloud-native platform engineered for comprehensive security testing and validation, BreachLock's core offering, Pen Testing as a Service (PTaaS), helps organizations accelerate pentesting by 50% and reduce TCO by 50% compared to alternative solutions and traditional pentesting. BreachLock helps clients improve security maturity, meet compliance requirements (i.e., PCI DSS, HIPAA, GDPR, NIST CSF, SOC 2), and conduct third-party security pentesting. Learn more at www.breachlock.com.
Learn more about BreachLock. Read our
FAQ Page