Updated On 12 May, 2023
BreachLock Releases SET for External Attack Surface Management (EASM)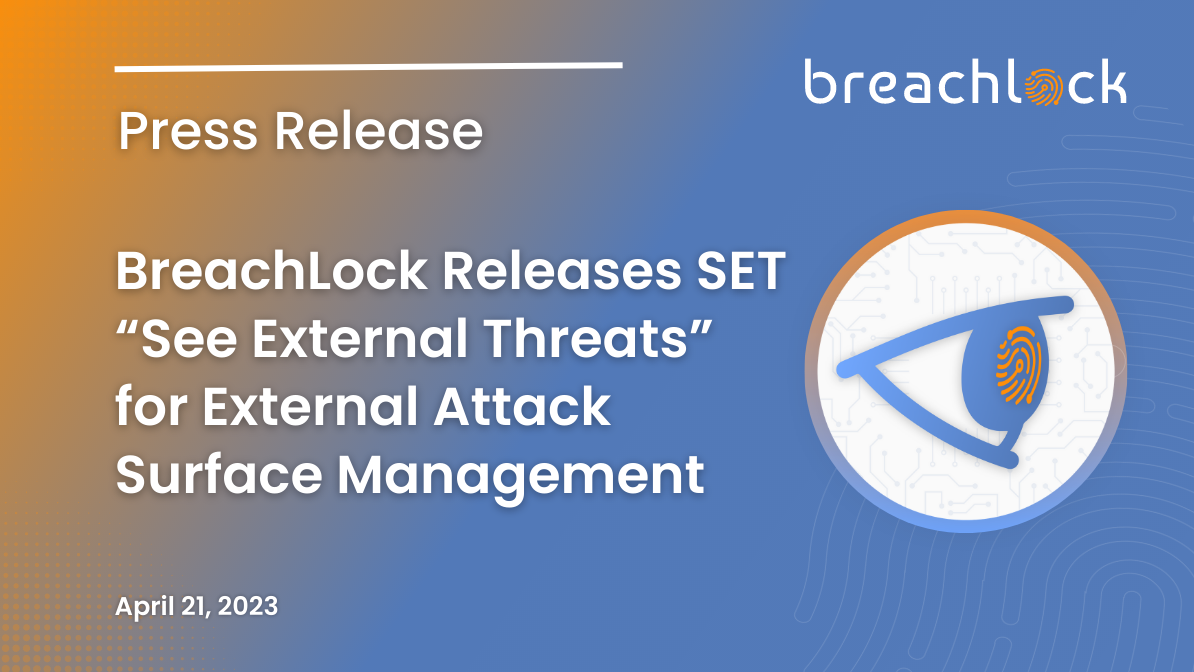 BreachLock announced today the release of SET for External Attack Surface Management to help clients "See External Threats" and secure their assets online.
BreachLock, the global leader in Pen Testing as a Service (PTaaS), announced today the release of their new External Attack Surface Management (EASM) platform called SET to "See External Threats." SET is now available for qualified enterprise organizations.
SET from BreachLock is the first EASM platform engineered to integrate the DevSecOps approach for real-time risk mitigation of external surface exposures. SET gives IT and Security teams the controls and intelligence needed to minimize exposures on a client's external attack surface.
"When you know your exposures – you can prevent your organization from becoming a cyber criminal's next target," said Seemant Sehgal, Founder and CEO of BreachLock. "The SET platform is engineered to discover online assets, establish continuous visibility, and provide a complete external attack management solution."
Combined with its flagship Pen Testing as a Service (PTaaS), SET gives security leaders visibility of what their adversary can see from publicly available endpoints and provides remediation guidance for DevOps.
"SET provides asset discovery, asset inventory, and vulnerability scanning to manage risks from external exposures on an organization's attack surface," explained Himanshu Nautiyal, COO and co-founder at BreachLock. "In-house teams can scan continuously for new vulnerabilities, and patch, retest, and report on results," he added.
BreachLock's AI-enabled, human-led security testing services empower their in-house, certified Pentesters with the latest technology to deliver pentesting at scale through its award-winning, cloud-native platform and client portal. BreachLock has earned recognition as a PTaaS sample vendor in the Gartner Hype Cycle for Security Operations in 2021 and 2022, and for DevSecOps pentesting in the CI/CD pipeline in 2023. With its innovative methodology and client focus, BreachLock delivers third-party penetration testing at half the cost in half the time compared to other penetration testing companies.
About BreachLock
BreachLock® is a global leader in cybersecurity and Penetration Testing services combining the power of human hackers, artificial intelligence, and automation. With full-stack, Human-led, AI-enabled, Pen Testing as a Service (PTaaS), BreachLock enables organizations to accelerate pentesting by 50% and reduce TCO by 50% in comparison to alternative pentesting companies. BreachLock helps clients accelerate their security maturity, meet compliance requirements (i.e., PCI DSS, ISO 27001, HIPAA, GDPR, SOC 2), and conduct third party security vendor assessments. Learn more at www.breachlock.com.
Learn more about BreachLock. Read our
FAQ Page