Updated On 12 May, 2023
BreachLock Recognized in Reuters for Cyber Security Leadership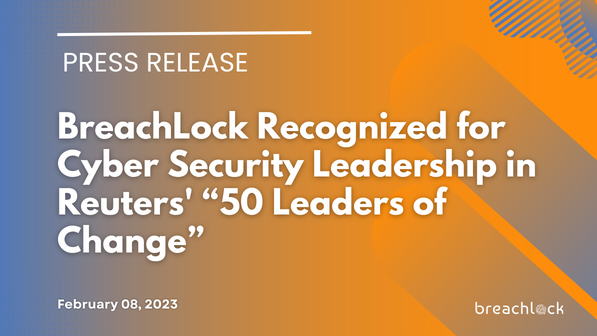 BreachLock's award-winning, analyst-recognized Pen Testing as a Service (PTaaS) has been honored for "Making Cyberspace a Safer Place" with Reuters' 50 Leaders of Change.
BreachLock was recognized by Reuters' for "Making Cyberspace a Safer Place" with its human-led, AI-enabled penetration testing services among 2023's 50 Leaders of Change. This recognition follows another high-growth year for the cyber security testing company, as they continue expanding into global enterprise and SMB markets with recent seed funding valued at $3M from TIIN Capital.
"We're honored to be recognized for making cyberspace a safer place. We founded BreachLock to build a new offensive security solution for penetration testing services and fill a critical gap in the marketplace," said Seemant Sehgal, Founder & CEO of BreachLock. "BreachLock is exceeding expectations for our clients," noted Sehgal, "with full stack pen testing as a service, cyber security testing innovations, and our secure cloud platform, companies are able to conduct faster pentesting affordably – without added risk or hiring additional resources."
BreachLock's flagship Pen Testing as a Service (PTaaS) provides a strong alternative for third-party penetration testing at half the cost of other pen testing companies. With testing capabilities and built-in user controls, customers enjoy penetration testing benefits for one year after their pentest starts.
"Companies benefit from Pen Testing as a Service in ways that they hadn't considered before working with us," said Himanshu Nautiyal, Chief Operating Officer. "Those advantages are all measurable – from cost-savings to faster remediation. Our clients see these results immediately and over time," he added.
With its focus on customer success, BreachLock's innovative approach has established itself in the penetration testing marketplace, with recognition as a Pen Testing as a Service sample vendor in the Gartner Hype Cycle for Security Operations in both 2021 and 2022.
About BreachLock
BreachLock® is a global leader in cybersecurity and Penetration Testing services combining the power of human hackers, artificial intelligence, and automation. Engineered for agility and scalability for digital environments of any scale, on its cloud-native platform, BreachLock delivers full-stack, Human-led, AI-enabled, Pen Testing as a Service (PTaaS), enabling organizations to accelerate pentesting by 50% and reduce TCO by 50% in comparison to alternative penetration testing companies. BreachLock helps clients accelerate their security maturity, meet compliance requirements (i.e., PCI DSS, ISO 27001, HIPAA, GDPR, SOC 2), and conduct third party security vendor assessments. Learn more at www.breachlock.com.
Learn more about BreachLock. Read our
FAQ Page