Updated On 7 June, 2023
What Cybersecurity Framework Works Best for Penetration Testing?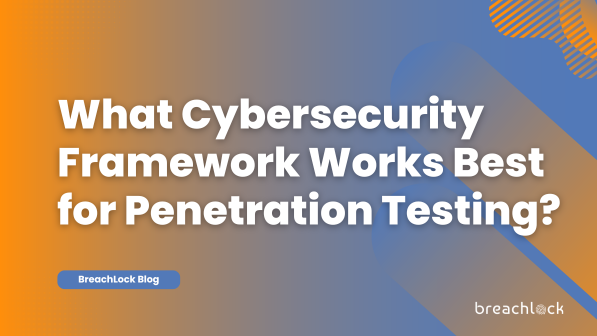 Organizational security against cybercrimes is turning out to be a priority for organizational leaders. If your organization is still not ready to defend itself from another cybercrime, your name could soon be the next one – in the daily headlines of cyber-attacks.
One of the strongest mechanisms to strengthening cybersecurity is the organization implementing an industry-acknowledged cybersecurity framework to set the standards and criteria for the security program.
A

cybersecurity framework

is a guardrail – rather than a well-defined structured approach – that organizations leverage, globally, to manage cybersecurity risks and improve their defense strategies.
Cybersecurity frameworks house multiple segments of protection frameworks that define organizational policies, cybersecurity risk assessment and management modules, detection mechanisms, and incident response plans with an aim for consistent improvement.
Once implemented, a cyber security framework establishes the programs, functions, and technologies within an established framework backed by the industry to manage cybersecurity risks proactively.
Using a Cybersecurity Framework is Fundamental in IT security
Cybersecurity frameworks are foundational to ensuring the IT security program is organized to comprehensively manage cyber risks while improving security maturity over time. In addition to the benefits of guarding your organization against continuous cyber-attacks, organizations use a cybersecurity framework for the following three reasons.
Aligns with global compliance and cyber security standards
The cyber security regulations and compliance standards vary across industries. Implementing cyber security frameworks within an industry enhances the trust factor of the organization, as the industrial standards are met. The standardization and compliance of cyber security frameworks add a huge bonus for the internal cyber security operations within the organization. A standardized mode of communication across the organizational level enhances the line of communication within the organization too.
Improves risk management
Risk management within an organization follows a step-by-step framework – starting from risk identification, assessment, evaluation, mitigation, and recovery. A standardized cybersecurity framework becomes critical in navigating through these stages that can further reduce the time to address the issue and improve the time to recovery – if the system is compromised.
Enhances understanding of organizational security posture
Having a well-framed cybersecurity framework enables the leading executives of the organization to track the organizational security posture and suggest improvements based on industrial standards. An organization's current cyber security system can be assessed based on the cyber security framework – thus you can find out how secure the critical information, infrastructure, and the entire ecosystem is – against any cyber-attack. Identification of the status of the organization's cyber security is enabled with the proper cyber security framework, based on which any weaknesses are identified – and appropriate actions are taken against them.
What should a cybersecurity framework do?
As much as selecting a cyber security framework is important to an organization, it is crucial to understand that selecting one requires due diligence – in terms of industrial relevance, compliance standards, and organizational structure.
Considering the following requirements below can help inform the final selection of the cybersecurity framework for your organization:
Coverage of the cyber security framework: A cyber security framework that provides holistic coverage across numerous cyber security areas should be the priority. Cross-functional holistic coverage ensures end-to-end security for the organization and reduces complexities arising from integration challenges across different frameworks. Complete coverage ensures uniformity at an organizational level, thus streamlining the penetration testing across the organization, to look for vulnerabilities. The variation in the penetration testing framework across different types of cyber security frameworks requires the organization to select a cyber security framework that has wider coverage, to eliminate discrepancies within the organization.
Scalability: If your organization is at a nascent stage, this point should be in the top three priorities. Why? If you don't want to involve yourself in the hassle of migrating to a different cybersecurity framework once your organization has started evolving – be mindful of scalability. A scalable cyber security framework enables organizations to grow, securely and expand their cyber security framework as they are on the growth path. Moreover, scalability offers a key competitive advantage as it ensures a homogeneity of cyber security framework being implemented across the organization once it starts expanding.
Integration with the current IT infrastructure: The cyber security framework touches every single point of the IT infrastructure within the organization. Thus, it becomes quite critical that the framework is compatible with the already established IT infrastructure. A sound integration with the existing processes, without bringing about wide variations is critical for business continuity and smoother transition.
How do I choose a cybersecurity framework?
The choice of using a cybersecurity framework is often already made early in the cybersecurity governance processes. However, cybersecurity frameworks can be required or leveraged to build a cybersecurity program. Beyond selecting the core frameworks the security program will enforce, it's critical to consider the implementation of any cybersecurity framework. Security leaders will need to bring the governance and control stakeholders together to align on how key compliance and security risks will be managed within the organization. Each framework that is officially incorporated into the cybersecurity program will often cascade from those decisions made.
It's important to overcome the operational challenges that make it difficult for organizations to adhere to a secure cybersecurity framework at an organizational level. These challenges will make implementation and enforcement more difficult across teams.
Varying technological subsystems: There are varying technological subsystems across the organization – and different technologies have varying protocols, compliance requirements, and security policies. Integrating these different technology-supported systems can be quite difficult, and any failure in their communication with each other might lead to difficulties in managing security and compliance risks and frameworks. Information gaps, technological inefficiencies, and growing vulnerabilities within the organizational system can be quite easily noticeable under such scenarios.
Resource alignment in Governance, Risk, and Compliance: Managing security and compliance risks often requires highly skilled human resources. The lack of skilled resources within the risk and compliance function can cause organizations to fall behind in terms of the implementation of cybersecurity frameworks. Eventually, it leads to gaps in risk assessment, risk identification, management, and disaster recovery, under the circumstance of a security breach.
Since cyber security is a non-negotiable topic, having the right cybersecurity framework can help your organization follow a standardized protocol, followed across the industry. This can help your firm to monitor, assess, identify, and mitigate any cyber security risk in a more efficient and structured manner.
Four Popular Cybersecurity Frameworks
There are many frameworks, but in the category of popularity, there are four cybersecurity frameworks to consider. Understanding the differences can help compare which one would work better for your firm. Read on for a comparative study of these leading cyber security frameworks across industries.
NIST CSF
If you have a smaller business and are looking forward to aligning it with a cybersecurity framework, the NIST cybersecurity framework should be your first choice. The coverage of NIST CSF is on the lower end, which makes it quite inappropriate for bigger organizations – yet its brevity offers a comprehensive potential solution for small-scale industries.
NIST CSF shies away from introducing new standards or protocols. But it depends on leveraging industry-leading cyber security frameworks as designed by organizations like NIST or ISO. The coverage of NIST CISF follows the IPDRR framework (Identity, Protect, Detect, Respond, Recover). Enabling organizations to identify, track, implement, and enhance cyber security practices by establishing a common communication language between them is the main goal of NIST CISF.
SCF – Secure Control Framework
The Secure Control Framework is a wide collection of cyber security frameworks that primarily focus on keeping all the internal interactions on the same page. Designing policies and procedures to prevent any undesired events and correct them, in case – is the main goal of SCF. SCF is highly industry-specific, though it has capabilities of handling complex cyber security challenges and privacy requirements, thus making them stand out against other frameworks. Overall, SCF offers a comprehensive solution to firms of medium to higher complexity, thus double-clicking on the fact that firms with simpler compliance requirements may select a simplified alternative.
ISO 27001
ISO 27001/27002 are the security guidelines that organizations need to abide by, to ensure that they have a robust information security system in place. Implementing robust security management systems to protect the information, ensure the integrity of the information systems, and ensure confidentiality and availability is the key to ISO 27001/27002. 𝗜𝗦𝗢 𝟮𝟳𝟬𝟬𝟭 𝗰𝗼𝗻𝘁𝗿𝗼𝗹 𝗼𝗯𝗷𝗲𝗰𝘁𝗶𝘃𝗲 𝗔𝟭𝟮.𝟲 (𝗧𝗲𝗰𝗵𝗻𝗶𝗰𝗮𝗹 𝗩𝘂𝗹𝗻𝗲𝗿𝗮𝗯𝗶𝗹𝗶𝘁𝘆 𝗠𝗮𝗻𝗮𝗴𝗲𝗺𝗲𝗻𝘁) focuses into:
Information gathering about organizational vulnerabilities.
Tracking how the information systems are exposed to these vulnerabilities.
Steps were taken to mitigate the risks associated with the vulnerability.
As a precautionary measure, organizations must sort to penetration testing to ensure that the security risks are tended to and reduce the exposure of the company's assets to the vulnerability. The right penetration testing framework based on the information system architecture of the organization helps them to guard their critical information against cyberattacks.
Be it the network infrastructure or the security in web applications, the ambit of penetration testing covers them both. A cyberattack can take place even when an employee of your organization compromises critical organizational data, unintentionally. Social engineering penetration testing is meant to keep track of employees' readiness against cyberattacks – such as phishing, tailgating, and impersonation.
With Bring Your Own Device (BYOD) becoming a new fad within organizations, the chances of cyberattacks through wireless devices have grown multifold. Thus, organizations must not miss out on wireless penetration testing to check the security of their wireless networks and devices, which are the storehouse of critical data.
NIST 800-53
NIST 800-53 is currently under its 5th revision and has seen a paradigm shift in the current revision, compared to its predecessor. With the focus moving away from the US government strictly, the 5th revision has incorporated a more corporate framework, making it streamlined for adoption by the private sector. For private organizations doing business with the US government, following NIST 800-53 is the mandate which must be followed.
The industries of focus for NIST 800-53 are financial, medical, and government contracts. A remarkable thing to note about NIST 800-53 is the wide coverage of its principles across the NIST 800 – XX series, which is publicly available free of cost.
How do these frameworks compare to each other?
When we investigate it from the perspective of coverage, we find that NIST cybersecurity frameworks have some significant similarities with ISO 27002. With NIST 800-53 being a superset of both, they share all the characteristics of both frameworks. This makes NIST 800-53 suitable for larger companies that have unique compliance needs, while NIST CSF is the optimal choice for smaller organizations.
The Secure Control Framework is the superset for all the other cybersecurity frameworks – often referred to as meta-framework – which envelops over 100 laws, and regulations that cater to compliance requirements of higher complexity.
Use your Cybersecurity Framework with Pen Testing as a Service
With the average cost of a data breach reaching $4.5M globally and $9.4M in the U.S., safeguarding your firm with the right cybersecurity framework is mission-critical to building a mature cyber security program. After the framework is in place, you can work with a trusted provider to conduct a penetration test of systems using your cybersecurity framework.
Explore the cybersecurity framework which is best for your firm today. Then book a discovery call with BreachLock, the #1 choice for Penetration Testing as a Service. Join the evolution of IT leaders and DevSecOps practitioners shifting to PTaaS with the global leader in penetration and security testing services.
Learn more about BreachLock. Read our
FAQ Page