Updated On 12 May, 2023
BreachLock Pen Testing as a Service (PTaaS) Recognized by Reuters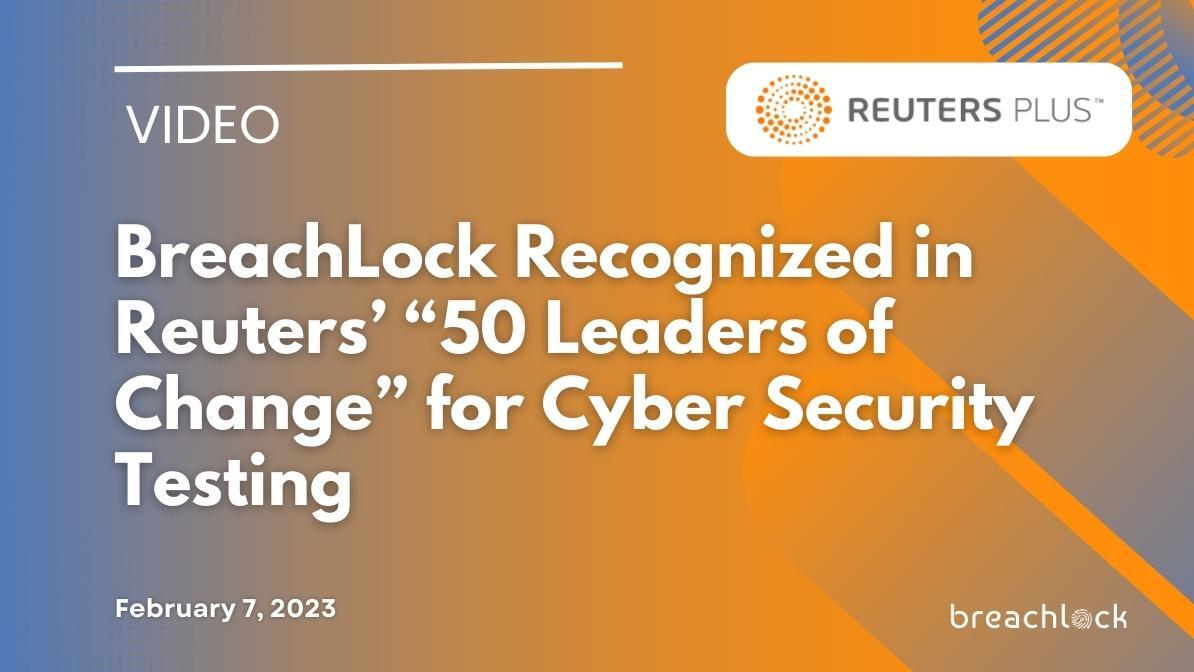 Ending 2022 on a high note, BreachLock was recognized as a leader by Reuters among their carefully selected 50 Leaders of Change. As a recognized global leader in Pen Testing as a Service (PTaaS), BreachLock was featured in a video highlighting its contributions to the greater cybersecurity community in the form of ground-breaking innovations in penetration testing technology and research.
The video featured Seemant Sehgal, Founder & CEO of BreachLock, Himanshu Nautiyal, BreachLock's Chief Operating Officer, Christopher Clark, Director of Sales at BreachLock, and Michael Lucassen, Managing Partner at TIIN Capital.
Check out the video to learn why BreachLock was chosen as one of the 50 Leaders of Change by Reuters or read on for the transcript.
BreachLock Pen Testing as a Service Makes Cyberspace a Safer Place – 50 Leaders of Change by Reuters
Modern Pen Testing Explained by BreachLock Security Leaders
Transcript:
Seemant Sehgal
"There are billions of dollars of investments going into cybercrime defense, but cybercrime breaches continue to rise. The reason is that we don't test our defenses enough – if we did, we would know upfront if the hackers attack us, how we'd perform over that particular attack. That would give you an opportunity to fix things before it's too late. The existing offensive security landscape is driven by human intelligence only, while cybercriminals are far ahead in the game. They're using automated technology and in some cases artificial intelligence to scrape the Internet and find out who can bleed the most and the easiest. This battle cannot be won without the use of technology."
Christopher Clark
"Here at BreachLock, we offer a number of penetration testing services that are really improving the cybersecurity market as a whole, but our main focus is pen testing, or pen testing as a service (PTaaS) to be specific. Now, pen testing as a service allows companies to continuously test their tech stack. Nowadays, that is so crucial because the vulnerability landscape is only increasing, and bad actors are just finding more and more ways to manipulate the systems, manipulate these organizations, and really just take advantage of people. With our pen testing as a service model, we're able to make pen testing more accurate, agile, cost-effective, and scalable."
Seemant Sehgal
"BreachLock is a penetration testing as a service solution that can help you get a full-stack picture of your threat landscape from a penetration testing perspective. How we do that is by combining three main elements – automation, artificial intelligence, and the creativity of human hackers."
Himanshu Nautiyal
"What I would consider a major achievement for BreachLock is being a front runner for creating this category called pentesting as a service in the offensive security market – which is, in a sense, disrupting a traditional way of pen testing, which has outlived its relevance. We just secured seed funding of $3M from TIIN Capital, which is the leading cybersecurity investor in Europe as a testimony to the market's belief in our vision."
Michael Lucassen
"We invested in BreachLock because if you look at the mission or the targets of our investment funds, it's all about making the world a bit safer again and trying to produce and find solutions and companies that can help us with that. When I came in contact with Seemant, the CEO of the company, the interesting part of the story was that he made a sort of combination – on the one side artificial intelligence made it more scalable, made it easier to use for enterprises. On the other hand, it's kind of a hybrid solution having dedicated hackers in place and can help you with more complex problems and hacks."
Himanshu Nautiyal
"By being an innovative technology solution, BreachLock offers a lot of benefits to its customers compared to the rest of the solutions available. For one, we can start a pen test for customers within 24 hours, we can do it 50% faster than others, and since we're deploying technology to save expensive human hackers' time, we can save 50% of the cost for our customers so they can do more with less. Finally, a very understated benefit is helping reduce the remediation to 30% of what it is today."
Seemant Sehgal
"Security research is a pivotal element of our DNA. As a company, we invest a lot in looking on the dark web and the open internet asking "What are the new trends that the cybercriminals are bringing to the forefront?" so we can replicate those checks for our clients. Not only do we consume this research for the benefit of our clients, but we also believe in sharing it with the wider cybersecurity community. Because we have access to a lot of intelligence gathered from doing thousands of penetration tests or ethical hacks, we make this information available in the format of our Annual Penetration Testing Intelligence Report, where CISOs that are not even our clients can look see what flaws other organizations are suffering from and be better prepared for their own organization even without hiring us to conduct a cybersecurity assessment. That's one of the contributions that we've made to the cybersecurity community because I truly believe that fighting cybercrime is a team sport – it's not a one-company game. We need to work together because we've got one single adversary on the other side – and that's the malicious hacker, so you need plenty of good hackers and technology on this side of the table combining the power of the community to put up a good defense and beat them at the bad game.
In the past four years, BreachLock has already disrupted the pen testing industry, which means we are able to give faster, better, and more comprehensive results compared to the traditional pen testing providers that have been around for decades. The battle for us has just begun – we have to fight cyber criminals at a faster speed and with better comprehensiveness. In the end, we want to be better prepared from a cybersecurity defense perspective, and there's a ton of research that BreachLock is going to bring to the table with a promising future to make cyberspace a safer place for our society."
Ready to Accelerate Pen Testing with a Leading Provider?
Looking for a penetration testing service provider that can give you faster and more accurate results for half the cost of your traditional pentesting provider? Contact us to learn how you can accelerate pentesting by 50% and reduce TCO by 50% like our 700+ clients to make compliance and risk management easier on your team – we respond the same business day!
Learn more about BreachLock. Read our
FAQ Page