Updated On 26 January, 2023
BreachLock Appoints Brent Plow as VP of Sales, Positioning Company to Accelerate Growth Initiatives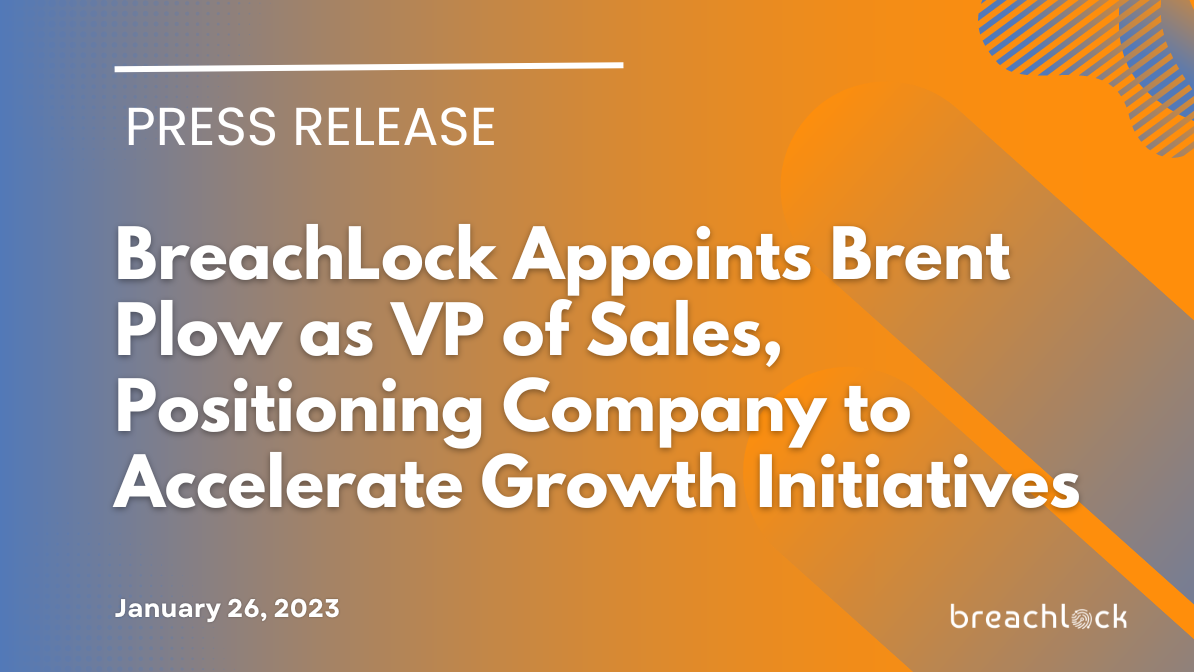 BreachLock prepares for another high-growth year with the appointment of Brent Plow as Vice President of Sales.
Following another high-growth year and recent seed funding valued at $3M from TIIN Capital, BreachLock continues expanding its impact in the enterprise and SMB markets at full force with Plow's appointment as VP of Sales. Plow brings a decade of proven sales leadership experience in developing customer-centric sales strategies and streamlining processes, teams, and culture.
"By offering enterprise-grade penetration testing services at an economical price-point demanded by SMBs and startups, we're positioned to perform extremely well," says Plow. "With today's economy, businesses are cutting budgets and headcount. Security leaders must trim costs without reducing cyber defenses, which is why BreachLock has become the new 'go-to' provider by helping companies test more for less with impressive speed and accuracy." Plow continues, "I'm thrilled to be part of an innovative company serving security leaders' needs like no other."
Plow will amplify key value propositions to help security leaders navigate the pentesting decision-making process. With its flagship Pen Testing as a Service (PTaaS) offering, BreachLock provides a sound alternative for third-party penetration testing at half the cost of other pentesting companies.
"Brent understands how to create value for CISOs and security leaders – it was a no-brainer that he'd be an excellent leader for our already passionate sales team," says Seemant Sehgal, Founder and CEO of BreachLock. "I'm thrilled to have him on board and am looking forward to seeing his impact in action," he adds.
BreachLock's hybrid approach enables their in-house, certified pentesters with AI to deliver pentesting at scale through its award-winning, cloud-native client portal. With its focus on customer success, BreachLock's innovative approach has established itself in the pentest marketplace, with recognition as a PTaaS sample vendor in the Gartner Hype Cycle for Security Operations in both 2021 and 2022.
About BreachLock
BreachLock delivers full-stack, Human-led, AI-enabled, Pen Testing as a Service (PTaaS), enabling organizations to accelerate pentesting by 50% and reduce TCO by 50% compared to alternative penetration testing companies. BreachLock helps clients accelerate their security maturity, meet compliance requirements (i.e., PCI DSS, ISO 27001, HIPAA, GDPR, SOC 2), and assess vendors for third-party security. Learn more at www.breachlock.com.
Learn more about BreachLock. Read our
FAQ Page