Updated On 9 February, 2023
Top Vulnerability Scanners for Cybersecurity Professionals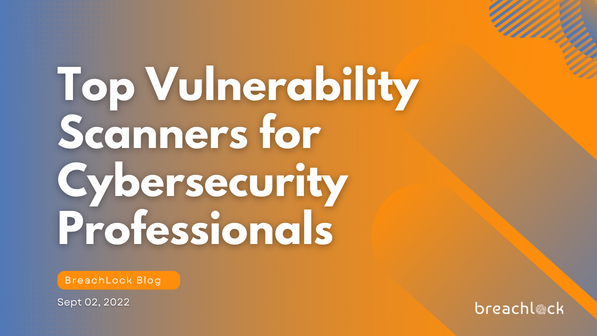 A vulnerability scanner is a crucial tool in any security team's toolkit. Security professionals use these tools to search for and identify known vulnerabilities in digital systems. While using a vulnerability scanner is a straightforward and undisputable practice, the benefits are multifold. Vulnerability scanners utilize a database of known vulnerabilities to identify potential weaknesses that threats can exploit. Security teams often prefer using multiple scanners to get the maximum possible coverage of their assets. If you are looking to select a vulnerability scanner, this guide shall help you. BreachLock security experts have recommended these scanners, and the list is not in any preferential order. 
Acunetix
Acunetix is a vulnerability scanning tool for web applications. Launched in 2005, Acunetix became a part of Invicti Security in 2018. The Acunetix scanner comes with dynamic and interactive application security testing (DAST & IAST) capabilities, enabling increased productivity, reduced false positives, and simplified remediation efforts. It offers integrations with your CI/CD pipeline or DevSecOps processes for automating and integrating your vulnerability management program. Moreover, it can be combined with platforms like Jira, GitLab, and Bugzilla for effective issue tracking and management. 
Burp Suite
Burp Suite is another leading vulnerability scanning tool for web apps. Offered by PortSwigger, it is available in three versions: Enterprise, Professional, and Community Edition. It supports your CI/CD pipeline integration through Jenkins and TeamCity platforms. It gives better control to security teams with the help of role-based access control for users. 
The platform allows security professionals to customize the reports they require. The issues can be grouped for better visibility and evaluation of the attack surface. In addition, Burp Suite checks for vulnerabilities related to standards such as PCI DSS or OWASP Top 10 vulnerabilities across an organization's web assets, which streamlines compliance reporting to a great extent. 
Qualys
Using Cloud Agent technology offered by Qualys, a security team can utilize continuous monitoring to detect vulnerabilities and proactively address potential threats. The platform sends real-time alerts so that security professionals can take immediate action. Qualys also offers VMDR 2.0 (Vulnerability Management, Detection, and Response) for the discovery, assessment, prioritization, and patching of vulnerabilities. VMDR 2.0 is provided as a comprehensive solution to fulfil vulnerability management requirements with the help of no-code workflows.  
Nessus
Nessus, a proprietary solution offered by Tenable, is trusted by more than 30,000 organizations globally. Nessus performs its scans through plugins that run against each host device to identify vulnerabilities. The platform claims to have the lowest false positive rate in the industry, with about 0.32 defects per 1 million scans. It has the broadest vulnerability coverage with over 71,000 CVEs and 174,000 plugins. It is platform-independent, and it can be deployed on any platform.  
With over a couple of decades in the market, Tenable has been recognized as a Gartner Representative Vendor in the Vulnerability Assessment segment for 2021. The leading vulnerability scanning platform has over 450 pre-configured templates that enable security teams to identify and locate vulnerabilities. 
OpenVAS
OpenVAS (Open Vulnerability Assessment System) is an open-source vulnerability scanner maintained by Greenbone Networks since 2006. It was initially known as GNessUs as it was forked from the open-source Nessus vulnerability scanning tool. It is currently available for the security community under the GNU General Public License (GNU GPL).  
OpenVAS scanner supports the detection of over 50,000 vulnerabilities with the help of the Greenbone Community Feed. It makes a compelling case for a low-cost solution for enterprise vulnerability scanning requirements with a dedicated and active open-source community. Greenbone Networks have renamed OpenVAS as Greenbone Vulnerability Management (GVM). GVM is one of the modules of the larger enterprise security suit called Greenbone Security Manager (GSM). However, the old name continued to be used due to its popularity.  
Nmap
Nmap is a shorter version of network mapping. Initially released in 1997, Nmap helps security teams check for vulnerabilities, port scanning, and OS fingerprinting. Even though Nmap is an open-source tool, it is backed by a strong community. Even after 25 years of its initial launch, Nmap is considered the industry standard for similar tools, open-source or closed-source. 
Port scanning is at the heart of Nmap. Security experts use the port scanning capabilities of Nmap to identify devices connected to their network and active ports on these devices. Nmap also identifies whether ports are closed due to firewall settings, operating systems, and active services.
BreachLock's PTaaS platform supports vulnerability scanning for your digital assets with the help of Reliable Attack Testing Automation (RATA). RATA is the first-ever cloud-based full-stack vulnerability scanner powered by artificial intelligence and human hackers. RATA is an easy-to-configure SaaS vulnerability scanner. For example, you can use the Quick Scan feature to check for 8,000+ vulnerabilities while your DevOps team makes frequent code changes. 
However, the point worth noting is that vulnerability assessment cannot identify an organization's true attack surface alone – it needs to be complemented. The results of vulnerability scanners alone can be overwhelming and may lack depth because operationalizing VA results can be counterproductive. Hence, vulnerability scanning/assessment should always be augmented with penetration testing to get a hackers' view. The PenTest results help organizations in: 
Accelerated remediation because of clear evidence-backed proof-of-concepts (POCs)

 

Unlimited automated retests to validate the fixes promptly

 

Increased security posture 

 

Reduced attack surface

 
Learn more about BreachLock. Read our
FAQ Page